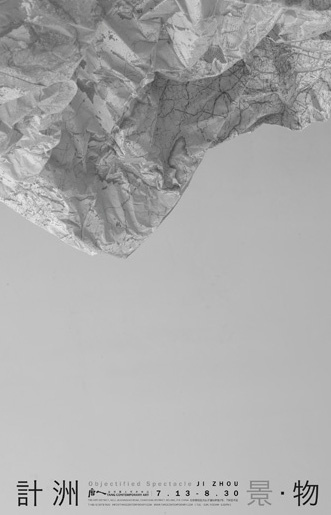 Still, dead and sealed-the monochromic images are silently buried under the thick dust. Ji Zhou's new series of photography and installation continue his obsession of ashes and dust. Ji Zhou has done this by revising our notion of daily life scenes as pure grey tone; dissociate the images from narrative and identification; moreover convert the silence of common objects into a powerful visual language.
Strangely, these images are upside-down, in which objects are inverted within the image plane, given the feeling of gravity inversion, the objects seemingly, sometimes rising up and sometimes falling down. These reversed images change our regular visual conception and deconstruct the meaning and the reference of the content. As Georges Baselitz said: "Why shouldn't it be reversed? Painting is to express human spirit, by doing so, I can paint cows in green and man's head upside-down. "From Baselitz's point of view, such inversion is to raise attention and to challenge artistic expression as well as social condition. Like Baselitz, Ji Zhou aim to reflect our nowadays-complex circumstances with such inverted distortion.
Another part of the exhibition is composed of a series of sculptural works. These objects found in daily life are cut into halves and covered with ashes, and are displayed on mirror surface stands. From far to close, the fragments gradually become whole once again. In the process of viewing, the optical tactic creates an illusion for our eyes. Ji Zhou reconstructs our memories, while treading lightly among them by intervening familiar objects that often define the life emotion of existentialism, rebuild the dialectical relation between objects, figures and people…a constant flow of society with visual play that sometimes true sometimes false.
There is no grand narrative or significance in Ji Zhou's work. What he obsesses over are the details in the mundane, when meanings and values are implied in the relationship between people and objects in real concrete life. His language stays middle grey, ambiguous and paradoxical, yet clearly defiant to the over imposure of symbolism contemporary art practices. Meanings or values are just forms of the chaotic and obscure, yet humbling in an overcast days.
About the exhibition
Dates: Jul 13 – Aug 30, 2013
Venue: Tang Contemporary Art Beijing
Opening: Jul 13, 2013 Sat 16:00
Opening Hours: Tue-Sun 11:00-18:30
Tel: 8610-59789610
Add: Gate No.2, 798 factory, Jiuxianqiao Road, Chaoyang Dst.Beijing, China
Fax: 0086-10-59789379
E-mail: info@tangcontemporary.com
Courtesy of the artist and Tang Contemporary Art, for further information please visit www.tangcontemporary.com.
Related posts: