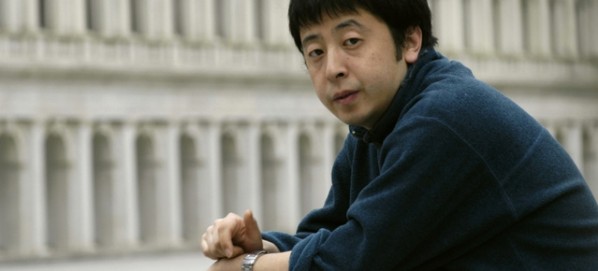 A "new" face has appeared in the corridors of the Department of Experimental Arts, School of Plastic Arts of CAFA at the very beginning of the new term in 2012. He is the leading figure of the sixth generation of Chinese filmmakers and one of international cinema's most celebrated artists who has directed Xiao Wu (1997), Platform (2000), Unknown Pleasure (2002),Still Life (2006), 24 City (2008) as well as others.
During "The Conference on Art Education of Experimental Arts in China Academies" held in May, 2011, director Jia Zhangke was specially invited by the School of Plastic Arts to be a visiting professor. Jia was impressed by the sincere invitation of Professor Lv Shengzhong, the Head of the Department of Experimental Arts before he decided to teach at the Central Academy of Fine Arts. This is the first time for Jia Zhanke to return to the campus environment as well as being a teacher to impart on his knowledge of films. In his own words, Jia is very pleased to teach at CAFA, also he was very excited and hopes to share with students here his many years of practical experience of film making and his perception of images.
As one of the mediums of contemporary art, the art of the image has been involved in many areas of sociology, philosophy, literature, aesthetics, psychology, archeology, geography, etc. It's such a complicated subject and has been widely utilized by artists. There are few projects in the Chinese academies of arts which contain professors who teach the creative language courses of filmmaking even though its importance is unquestionable. It's difficult to invite such an artist who is endowed with both the practices of creative experience and a profound insight on image.
The course Professor Jia Zhangke teaches for six weeks is "Visual Language" for the first grade of graduate students from the Department of Experimental Arts. Taking the characteristics of "video coping of the objective reality" as its starting point, this course will combine a variety of video art works from the aesthetics of videos and documentaries. Jia will tease out the history of filmmaking, then analyze and summarize the authoring language and aesthetic theories of filmmaking. In addition to the theoretical knowledge, Jia emphasizes the need for interactions with graduates, for example, they discuss their memories of the first film they saw then the video as a non-visual "image" will appear again in everyone's mind. Of course, graduated students pay much attention to the many years of practical experience from Jia and they look forward to receiving guidance from him in their operations of the actual shooting and post-clip works.
Currently, Jia Zhangke is shooting a new movie and he has a busy daily schedule. He takes this course seriously and arrives at the classroom half an hour before the start and prepares the computers, projectors and other equipment for the class. Graduates feel grateful for this opportunity and they actively participate in the discussions. A group of filmmakers come together to talk about filmmaking in the classroom for the graduated students in the Department of Experimental Arts, they are exploring the future of video art as well as the new possibilities of filmmaking as a contemporary artistic creation.
Jia Zhangke (b. 1970, Fenyang, Shanxi, China) has emerged as the leading figure of the sixth generation of Chinese filmmakers and one of international cinema's most celebrated artists. Merging gritty realism with elegance and originality, he tackles contemporary subject matter in both documentary and fictional projects—and often fuses the two approaches to great effect. In little more than a decade he has created a body of work that reflects the enormous changes of the past fifty years of Chinese society. Much admired by critics and an inspiration to fellow filmmakers, Jia has developed an original, ever-evolving style marked by fluid camera movement and a porous, symbiotic relationship between the real and the imagined. His films—characterized by their plainspoken directness and postmodern aesthetics and peopled with amateur as well as professional actors thus illuminating the transformations taking place in China's environment, architecture, and society by placing everyday people in the midst of a landscape in turmoil. Aiming to restore the concrete memory of place and to evoke individual history in a rapidly modernizing society, the filmmaker recovers the immediate past in order to imagine the future. His films reflect reality truthfully, while simultaneously using fantasy and a distinct aesthetic to pose existential questions about life and status in a society in flux. Through rigorous specificity, his art attains universal scope and appeal.
Related posts: