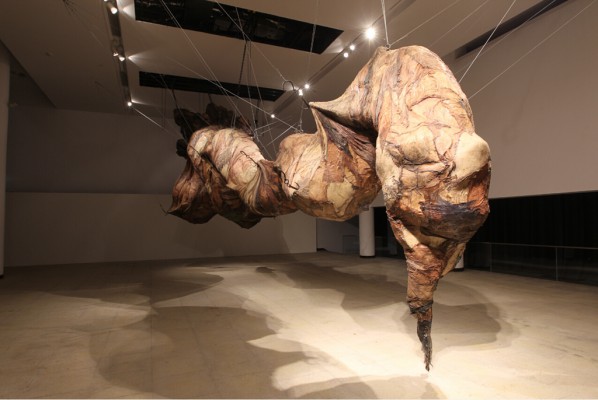 Started in 2007 in Shanghai, the Pujiang OCT Ten-Year Public Art Project has entered its seventh year. These past seven years have witnessed the increased presence of Chinese contemporary art internationally, socially, and within public space. As China's longest-running and most influential public art project, the Pujiang OCT Ten-Year Public Art Project has drawn on a standard of independent scholarship and wide social recognition to attract the participation of influential and critically recognized artists such as Sui Jianguo, Wang Jianwei, Lin Tianmiao, Gu Wenda, Edwin Zwakman, Liu Jianhua, Wang Guangyi, and Xu Zhen (MadeIn).
The 2014 Shanghai Pujiang OCT Ten-Year Public Art Project will be composed of two portions: a large solo exhibition and 17.5° Deviation. The female artist Jiang Jie was selected for the 2014 solo exhibition. The second portion of the 2014 Pujiang OCT Ten-Year Public Art Project is the placement of Sui Jianguo's large-scale installation 17.5° Deviation at its eighth point, occurring simultaneously with the opening of Jiang Jie's solo exhibition.
Since the 1990s, Jiang Jie has been one of the few female sculptors active at the forefront of Chinese contemporary art. Working from a deep cultural sensitivity and an acute female perspective, Jiang Jie's art explores people, events, and objects on the edges of society. Her work often focus onmicrocosmic and psychological scopes of experience, with perceptive and subtle observation on existence's fragility and ephemerality lying at the heart of her massive sculpture or installation works. The irreconcilable tension of classical aesthetics and contemporary art conceptualism is reflected in JiangJie's work, and it is this tension that lends a sense of the absurd and the poetic to her art. Although often dealing with subjects as the embryonic state, children, femininity, medicine, and education, Jiang Jie avoids standard feminist interpretations while aiming to place her work within a larger anthropological context. From Jiang Jie's perceptive, gender issues within art are not only related to our physical state or the institutional environments and political systems in which we live, but are also intimately connected to various landscapes of mythology, knowledge, and society. Jiang Jie's broad observational perspective makes her work surpass the range of "female art" and probe questions of human symbiosis.
Jiang Jie's installation, Over 1.5 Tons was created specially for the 2014 Shanghai Pujiang OCT Ten -Year Public Art Project, and marks the first time this female artist has dealt with the subject of desire. By transforming symbols of masculinity into both ritual and scenery, Jiang Jie's work attempts to visually analyze the absurd nature of "desire" as abiological, mythological, historical, and authoritative symbol. Through the complex opposition and symbiosis of massive physicality, ritualized shadow effects and pliable materials, Over 1.5 Tons attains the dimensions of adramatic quotidian landscape.
About the exhibition
Organizers: OCT Contemporary Art Terminal (OCAT ), Shanghai Pujiang OCT
Curator: Huang Zhuan
Academic Adviser: Ouyang Jianghe
Time: October 24, 2014 – January 24, 2015
Venue: OCAT(Shanghai), Sino-Italian Center, No.800 Puxing Road, MinhangDistrict, Shanghai, China​
Courtesy of the artist and OCAT Shanghai, for further information please visit www.ocatshanghai.com.
Related posts: