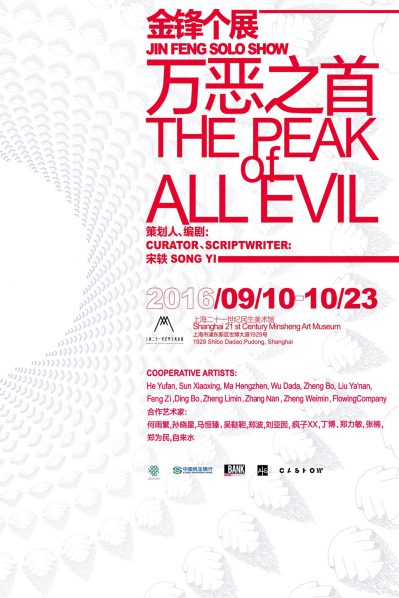 "Jin Feng Solo Show: The Peak of All Evil" covers nearly 1000㎡ of 4 ramp exhibition halls with videos, paintings and installation art at Shanghai 21st Century Minsheng Art Museum(M21). In addition, the artist Jin Feng has invited and collaborated with Song Yi, the exhibition curator to "re-depict" the artworks in the exhibition halls through a drama. Based on Yi's understanding of the artist's working philosophy, he has planned and directed an independent performance echoed with the exhibition theme in one of M21's large-scale exhibition space, 12 meter high and 600㎡ in space.
The show originated from Jin Feng's past projects "Everest". It further explores the theme– the Everest, an icon with multi-layer culture indications, is not only a medium transmitting the values of various perspectives but also a real physical existence. However, for the majority of people, the Everest is merely a subject matter with no personal experience. With the coexistence of many complex contradictions, the topics related to the Everest are very open, and yet relevant to the people's experience for the present era – all these have become the elements in the artist's works.
The exhibition will be open to the public from September 10, 2016 and will last until October 23.
About the exhibition
Date: September 10 – October 23
Venue: Shanghai 21st Century Minsheng Art Museum
Collaborating artists:
He Yufan, Sun Xiaoxing, Ma Hengzhen, Wu Dada, Zheng Bo, Liu Ya'nan, Feng Zi, Ding Bo, Zheng Limin, Zhang Wei, Zheng Weimin, Flowing Company
Courtesy of the artists and Shanghai 21st Century Minsheng Art Museum, for further information please visit www.21msms.com.
Related posts: