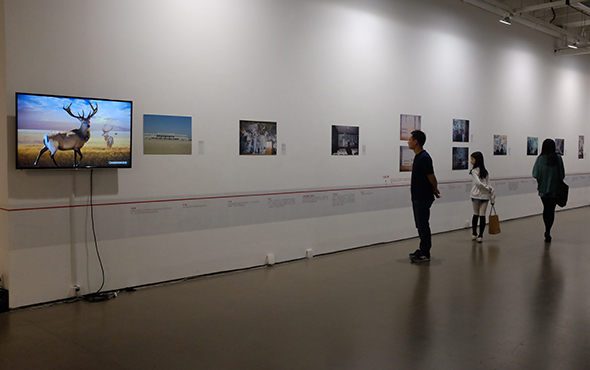 On the evening of April 29, 2017, the opening ceremony of "Joan Lebold Cohen's Moments in China" archive exhibition opened at the exhibition hall of Building 1, Beijing Today Art Museum. The American art historian Joan Lebold Cohen was the first promoter and curator to promote the new Chinese art to the world after the Cultural Revolution, and she traveled around China and personally visited the old, middle-aged and young artists from 1979 to 1981, thus witnessing all the significant changes and events in China's art world after the Cultural Revolution on the spot.
As one of the annual academic exhibitions of Today Art Museum, the exhibition is organized by CMAA and Today Art Museum, co-organized by Wu Zuoren International Foundation of Fine Arts, Dafei Arts Foundation and Asia Art Archive (AAA), with Kong Chang'an being the curator and Prof. LaoZhu fromPKU and Zhang Yufang from Dafei Art Foundation as the academic advisors. At the opening ceremony, the curator Kong Chang'an, academic advisors Prof. LaoZhu and Zhang Yufang, Jane Debevoise from Asia Art Archive (AAA) were all present and on-site with video connections to Joan Lebold Cohen.
Immediately after China and the United States established diplomatic relations in 1979, Mr. Cohen was invited to be the legal advisor for the Beijing Municipal Government. Mrs. Cohen came to China again. With the introduction of Maria B. Fang, an American student studying at CAFA in China, Mrs. Cohen met many students, teachers and some "amateur artists" and built connections with them. She even had a chance to give lectures to introduce western modern art, which was permitted by the leaders of the academy. With two slide projectors, Mrs. Cohen held three lectures in the auditorium and other classrooms in CAFA, creating a stir among the students and artists and the news spread like wildfire. And then, she was invited by Zhang Ding, President of the Central Academy of Arts & Crafts to give a slideshow lecture. Her lectures then spread to major fine art academies and art institutes including Shanghai Oil Painting Institute, Shanghai Theater Academy, Zhejiang Academy of Fine Arts, Guangzhou Academy of Fine Arts, Xi'an Artists Association, and Hubei Institute of Fine Arts. It can be said that, from her lectures introducing American contemporary art, many Chinese artists began to learn about Abstract Expressionism and Pop Art for the first time.
From 1979 to 1981, Mrs. Cohen continuously reported about art events in China in The Art Newspaper and Wall Street Journal Asia. It was her reports about The Stars group and the incident of the airport murals that brought the challenging voices in China into the western world – those reports also partly protected the artists who were in a dangerous situation. After years of on-site research and preparation, Mrs. Cohen finally had one of her most prestigious books – "The New Paintings in China, 1949–1986", published in New York in 1987. With rich archives and literature, this book introduces Chinese modern paintings and the evolution of its style, which is seen as the first treatise about Chinese contemporary art before the 1980s in the English world. The publication of this book gradually changed people's view about Chinese art as well. The book is about art and society in China during an era of extremely limited information, and Mrs. Cohen's on-site witness and documentary photographs have made it a "rare and convincing archive with high reliability".
Through the archive exhibition, we can see the valuable photographic information taken by Mrs. Cohen's. Asia Art Archive (AAA) spent nearly 6 months in classifying and scanning over 16,000 slides which were saved in more than 30 boxes. Around 200 representative photographs were carefully selected and finally presented to the audience. In order to help the audience understand this archive exhibition better, two documentaries are on shown, one of which is a record of Mrs. Cohen's slideshow lectures taking place in CAFA and other places in the world and an introduction to contemporary Chinese art in one hour; the other demonstrates her thoughts and feelings during her stay in China from late-1970s to mid-1980s, photographed by Kong Chang'an.
The exhibition remains on view till May 14.
Text by Lin Jiabin, translated by Chen Peihua and edited by Sue/CAFA ART INFO
Photo by Lin Jiabin/CAFA ART INFO & Today Art Museum  
Related posts: