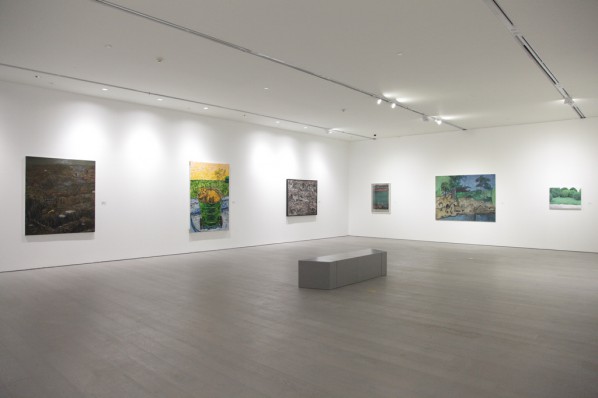 The Award ceremony of the "John Moores Painting Prize (China) Exhibition" was inaugurated at the Zendai Himalayas Center at 16:30 on April 15, 2014, and the finalists' exhibition officially opened at the Himalayas Museum. "I See Your Eyes" by Liu Gang, "I Don't Know" by Zhu Xiaocong, "Language of Role Series No.5" by Zhong Lexing, and "The Five Five-Pointed Star Across a Steel Stick" by Liu Shaojuan finally won the "2014 John Moores Painting Prize". Zheng Haozhong won the First Prize of "2014 John Moores Painting Prize" with his work "Qiu Chen".
The Prize received a total of 3013 submissions from 34 provinces, cities and regions, including Hong Kong, Macao and Taiwan; 194 works were shortlisted, among whichwere 70 finalists. "John Moores Painting Prize (China)" is as an effective window for Sino-British artistic exchange, gradually becoming a growth platform and academic standard for young Chinese artists. It is because of the fair, just and open, instead of a recommending mechanism system, Himalayas Museum cooperates with this, jointly exploring and cultivating excellent domestic artists. It is more important thatthe Prize offers winners opportunities for a British residency for creating and exhibiting, which helps the artists to win international visibility as well as providing them with opportunities for self-examination and positioning.
In the past few years, Shanghai has witnessed a wave of construction in art museums. With an emphasis on organizing exhibitions and promoting public engagement, art museums spare no effort in shouldering the responsibility for spotting and fostering new talent. As one of UK's best-known painting competitions, John Moores Painting Prize continues to honor the principle of open submission and democratic selection. Works are selected anonymously from an open submission by the independent jury. Prize-winning artists will be provided with the opportunity to hold an exhibition and to attend an overseas residency. Within just a few years, John Moores Painting Prize (China) has received wide acclaim among Chinese artists. This year, over 3,000 entries from across the country were received. Together with the organizing committee of John Moores Painting Prize (China) and the Fine Art College of Shanghai University, Shanghai Himalayas Museum is also committed to further promotion of the development of award-winning artists and to inspiring new momentum and changes in the Chinese painting scene.
2014 John Moores Painting Prize (China) Collections Preface
2014 marks the third edition of the John Moores Painting Prize in China, and this publication documents the paintings shortlisted for the Prize and exhibited at the Himalayas Museum in Pudong, Shanghai. The first time something happens, it arouses interest as something new – new developments are generally welcome. For the second event, people recall the first, and they simply welcome what they recognize. The third time, people suddenly become demanding. It's not enough for the event just to be repeated – it has to become better to hold people's attention. I'm convinced that this third edition of JMPP has indeed reached an even higher level of quality than the first two.
At the time of writing, the jurors have not yet decided on a shortlist of paintings, but it's clear to me that the standard is very high. The overall number of submissions continues to rise, and the number of high-quality paintings also increases edition by edition. The range of artworks does not vary so much: the business of the jurors is to find the best examples of each genre, whether still life, landscape, surreal scene, portrait, abstract, expressive scene, urban landscape etc. The only difference I believe I could find was that the proportion of 'conceptual' paintings may be larger than in the two previous editions. That is to say, paintings that are neither about the craft of painting, nor about the illustrative content, but which address rather the question of 'what is a painting?' or 'what is the role of art in society today?' This is a significant development, suggesting that some artists are increasingly committed not just to making beautiful or intriguing aesthetic objects, but to using art as an instrument for thinking, to challenge or question the world in which we live.
In previous years, I have been a juror for the UK John Moores Painting Prize on one occasion, and for the China JMPP on two occasions. This year it has been my honor and pleasure to chair the selection process for the JMPP China 2014, as a non-voting jury member. This means I have had all the pleasure of seeing the artworks submitted and of listening to the views expressed by the jurors, but I have had none of the responsibility for deciding which paintings should be finally shortlisted and exhibited.
I want to thank the five jurors for their painstaking work in scrutinizing more than 3000 submissions, and especially for being willing to enter into heartfelt discussions with their fellow jurors to arrive at a deeper understanding of the paintings under review. Their passion and experience are the guarantee that only the highest quality paintings are hung on the walls of the wonderful Himalayas Art Museum, for the benefit of their artist peers and the general public.
On behalf of Joanna Laing, Chairman, and the other Trustees of the John Moores Exhibition Trust, I would like to thank Director Wong Shun Kit (Wang Chunjie) for his welcome to our mission and our project. I would also like to express the enormous gratitude felt by all the Trustees towards Dean Wang Dawei, at the Fine Art College of Shanghai University, who has again taken responsibility for the organization of the Prize and Exhibition in China.
This is the first time that JMPP China has received corporate sponsorship, and I would like to extend our great thanks to Bob Grace, CEO China, and his team at Jaguar Land Rover, for their crucial interest and support. With the deep connections and many exchanges between Shanghai and Liverpool exemplified equally by the JMPP and by JLR, we believe our partnership in praise of quality is made at a global, maybe a celestial, level. Long may it continue!
– Lewis Biggs
Chairman of the jurors,John Moores Painting Prize (China)
Related posts: