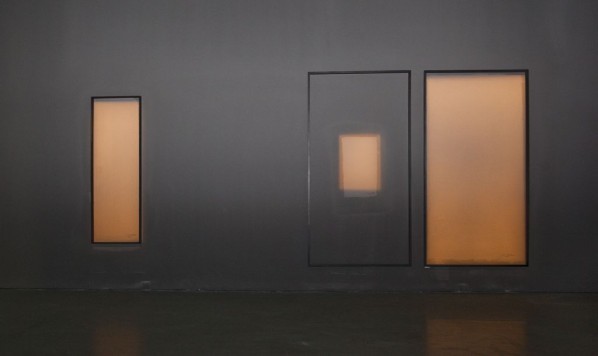 Exhibition Preface
By Wang Jiayi
In 2002 in Paris, Wang Tiande's cigarette butt accidentally fell onto a piece of Xuen Paper and caused it to hollow out from the burning, which he drew inspiration from and further developed into a creative technique. A new dimension of Chinese ink art has been unveiled since. While Wang Tiande continues to "burn" calligraphy and landscapes using incense as of 2012, the layout of his work have seen a new round of transformation. At the four margins of his landscape painting, he patched on monotypes of historic stilts, at times even juxtaposed with the original stilts. This particular development was initiated by his earlier collection of calligraphy stilts in the Suzhou region that could be traced back to the Ming and Qing Dynasties, which not only gave him further creative inspiration but facilitated his mending of cultural rupture and his search to reconnect with tradition.
Fast forward to 2014, Wang Tiande has further injected historical content into this works. Looking back at the decade preceding 2012, while an art historic approach has always been crucial to Wang Tiande's creative process, meaning of the scripts was always deliberately suspended or obstructed, at times even consciously left out, inhibiting contextual definition by the viewer. Paradoxically, while his calligraphy and landscapes are hollowed out from burning and never lacked of spatial implication, the actual viewing experience could be likened to an obscure veil, covering, interfering and even resisting the viewers' visual and physical entrance. This passive denial of context and clues that lead to an alienating condition has finally seen a turning point due to the artist's active inclusion of authentic historical artifacts and texts.
Yang Tingshu (1595-1647)- Wang Wei's Peoms in Running Script, Xu Qian (1597-1645)- Self-composed Peoms in Running Script and Zhang Zhao (1691-1745)- A Visit to the Peach Blossom Land are all new works by Wang Tiande in 2014. In a fashion distinct from the past, he named these works after historical figures and their calligraphic legacy, which serves as evidence to his construction of a new narrative while implanting ancient originals.
It is worth noting that Wang Tiande plans to bury one of his trans-historical works into the walls of the museum exhibition hall, awaiting future excavations. This reminds me of the story of Fu Sheng carving up walls to conserve scriptures previously mentioned. Coincidentally, in Wang Tiande's new work Zhang Zhao (1691-1745)- A Visit to the Peach Blossom Land, the Wang Wei poem A Visit to the Peach Blossom Land, which Zhang Zhao rewrote in calligraphy, was modeled after Tao Qian's (c. 265-427) The Peach Colony, in which "escaping Qin dynasty" again brings out the image of "hiding", while implying a utopia to be discovered.
From rupture to reconnection, Wang Tiande found a possibility of bridging traditional and contemporary across the positive/negative void, opening a new and more complex phase of art in the spirit of harmony within diversity.
About the exhibition
Duration: 2014.05.05 — 2014.05.26
Location: 2nd floor exhibition hall of Building No.1, Today Art Museum
Photo by Quan Jing.
Courtesy of the artist and Today Art Museum, for further information please visit www.todayartmuseum.com.
Related posts: