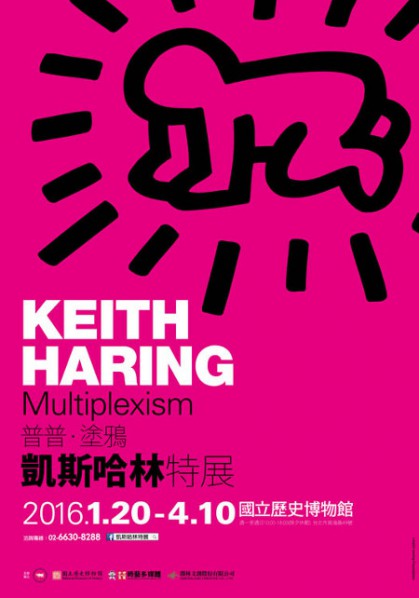 Keith Haring (1958-1990) was born in Pennsylvania and became interested in art at a very early age. In 1978, he moved to New York to study at the School of Visual Arts. It was during this period that he began to paint on New York streets and subways. The ideal of Keith Haring was to bring art to the population. He utilized simple and thick outlines with bright colors and created iconic images of pop art style, such as radiant babies, barking dogs, and twisted kneeling figures. Today these are part of a popular visual vocabulary and are widely loved. This exhibition is the first large-scale exhibition of Keith Haring in Taiwan. While the artist passed away at a tragically young age, his works, with their socio-political ideals and messages, can surely inspire people to cherish the world around them.
About the exhibition
Date: 2016.01.20 – 2016.04.10
Address: 1st. Floor
Open time: daily from 10:00 to 18:00
Except Chinese New Year Eve(2016.02.07)
Courtesy of the artist and the museum, for further information please visit
www.nmh.gov.tw
.
Related posts: