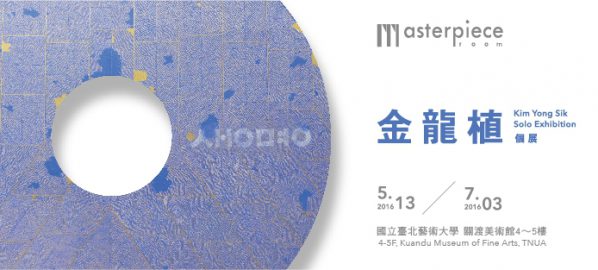 Eternity & Limitation – The Inner Order and Enhanced Spirit
By Kim Yong Sik
As a person experience life throughout the year, his perspective and thought and changes through time. Looking back at my past, I was confident about achieving anything in my 20s and 30s. However, in my mid 30s, I found myself slowly waking up from this confidence as I was able to objectively view myself and the world surrounding me. In my 50s, I began to realize that there are many things in this world that cannot be controlled by human will (it mean I realize 知天命 in my 50s).
For 10 years after I had finished my degree in Korea, I actively worked on my art works and taught in several universities. Then I made up my mind to go to the United States of America in order to expand my artistic spectrum despite my late age. In the States, I had two experiences which changed my works; as I was walking through an aisle in the Metropolitan Museum, where primitive art works were exhibited on one side and contemporary art works on the other, I felt a pang of shock which I had never experienced before. I already knew well about the sophisticated style and the logical culture of contemporary art so I did not feel at all shocked when I saw great contemporary art works displayed. On the contrary, the primitive art works shocked me. It was ironic that I was standing on the mecca of contemporary art and yet, I was more affected by primitive art. The second experience was at the time of Gulf War, I saw the American citizen hanging yellow ribbons on the trees for their soldiers. All the trees in Manhattan were hung with yellow ribbons. It was their symbol of wishing safe return for their soldiers. It was very ironical to see this 'ritual of shamanism' in the country of high technology. These two experiences of irony shook my logics and my life value. From that point to about a certain period of time, I began to understand the inevitable limit of human (mortality) and that this 'limit' causes human beings to wish for eternity. Also, I realized that this 'will of life' is in our human nature. In reality, our life always coincided with desire. We may be communicating with the eternal from the inner order and enhanced spirit, which transcends time and space.
With the title of 'Eternity and Limitation', I tried to express human desire to overcome his or her limitation. In other words, I tried to express human will to become eternal. The characteristic of my works is that they have both abstract space and figurative space, at the same time. Also, geometrical shapes such as circle, triangle, square, and T-shape co-exist with Korean texts or English texts such as ㅅ ㅐ ㅇ ㅁ ㅕ ㅇ, ㅅ ㅜ ㅁ, ETERNITY, and BREATHE. In other words, branches flower petals and fruits that are symbols of life show its figurative figure on a geometrical abstract space, which I tried to express as an abstract space of light penetration. Texts shown over the scratched lines, which seem like drawing-like expression at the same time the penetration of light, act as a visual element of providing tension. It also acts as a keyword that reveals the meaning of the work.
The essence of life is that it cannot be controlled by human. It is a territory of the sublime. Light is life. Light possess clarity and it purifies life with warm breathe. It transcends time and space and provides eternity. The expression of light in an abstract space shown in bright primary colors and the gold color in my works is the key that defines my whole art works. The figurative figures of the delicate plants in pure white background that seems like light represents human desire to overcome the limitation of life, to seek eternity.
About the artist
Born in Masan, Gyeongnam in 1954, Kim Yong-Sik earned his Bachelor and Master degree in Painting at Seoul National University. After finishing his degree, he taught in several universities such as Seoul National University and Duksung Women's University and actively worked on his artwork series, 'Gesture'. In 1989, wanting to further his artistic spectrum, he was on board to New York. In New York, he entered the graduate school at the School of Visual Arts where he achieved his Master degree in Printmaking and Painting. Returning to Korea in 1992, he became a professor of Painting Department at Sung Shin Women's University. He was the Dean of the Fine Arts College at Sung Shin Women's University and also the president of Korea Printmaker's Association. In 2002, he stayed in Melbourne for a year as an exchange professor at RMIT. And in 2010, he was a visiting artist at Taipei National University of the Arts. He is currently a professor of Painting Department in College of Fine Arts at Sung Shin Women's University.
He has had 15 times solo shows in Seoul, New York, Melbourne, Taipei, and Macau and was awarded 'The Prize of Special Description' at Cagnes International Painting Festival in France. He has participated about 300 exhibitions such as Macau Printmaking Triennial (Macau Museum of Art, 2015/2013), Korean Contemporary Art (National Taiwan Museum of Fine Arts, 2012), Spectrum of Korean Contemporary Art (Kaohsiung Museum of Fine Arts, 2011), Eternal Blinking: Contemporary Art of Korea (Art Gallery, University of Hawaii, 2010), 30 Years of Korean Drawing (Soma Museum, 2010), Korean Contemporary Printmaking 1958-2008 (National Museum of Modern and Contemporary Art, 2007), Reality of Painting and Sculpture (Gyeongam Art Museum, 2006), Korean Contemporary Art (Qatar, Morocco, 2007), Biennale of Ljubljana Print (1999), and Korean Contemporary Printmaking (National Print Museum of Spain, 1999), Present-Image (1986-1989, Seoul), and Realite Seoul (1987-1989, Seoul).
He has also been a committee member of Korean Fine Arts Competition, a board member of Seoul Art Exhibition, and a selection committee member of many international and local art events such as International Biennial Print Exhibit, Taiwan and Macau Printmaking Triennial. Several museums and public places such as National Museum of Contemporary Art, Korea; Seoul Museum of Art, Korea; British Museum, UK; Novosibirsk State Art Museum, Russia; Kuandu Museum of Fine Arts, Taiwan; National Taipei University of Education, Taiwan; Yilan Museum of Art, Taiwan; Gyeongnam Art Museum, Korea; Jeju State Museum, Korea; Sungkok Art Museum, Korea; Jincheon Printmaking Museum, Korea; Korea Art Bank; Sung Shin Women's University, Korea; Duksung Women's University Museum, Korea, etc. carry his art works in their collection.
About the exhibition
Date: 2016-05-13 ~ 2016-07-10
Venue: Masterpiece Room, Kuandu Museum of Fine Arts
Courtesy of the artist and Kuandu Museum of Fine Arts, for further information please visit www.kdmofa.tnua.edu.tw.
Related posts: