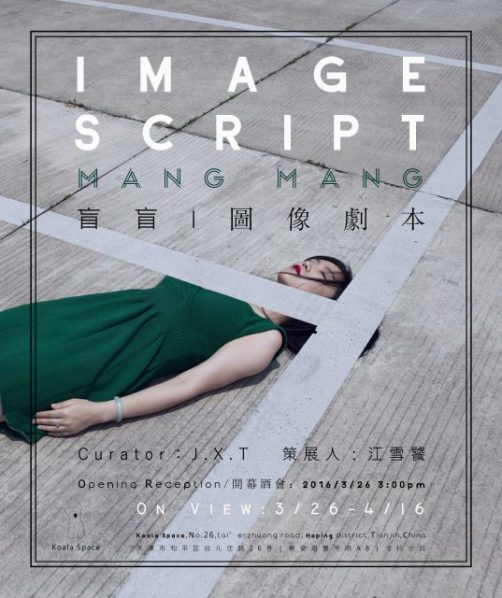 Koala Space presents the exhibition of "Image Script" which is the first solo show of artist Mang Mang in China. It features the 8-year (from 2009 till now) creation cycle of Mang Mang as the clue and shows image creation practice with artist's personal experience and continuous thinking about social identity and a series of problems.
"Image Script" is the initial feeling of Mang Mang's works from the curator Jiang Xuetao. After a decade of theatrical performance, Mang Mang had been the protagonist herself of all her works during 2009 to 2014. She acted as different "roles" and finished the special image creation. The Unknown Tragedy created after 2015 was the first production that Mang Mang didn't appear.
"This is a shooting plan lasted for one year, so I bought a potable camera for that. Without too many photography techniques and statement of the pictures, I only wanted to record the moments I was moved. Actually it's a screenplay. Maybe it seems a little bit messy and unrestrained, but this is just the feedback that I want to fill up blank pictures with subconsciousness and imagination of audiences. I concentrated on all things in these dozens of photos and finished my The Unknown Tragedy." (By Mang Mang).
About Koala Space
Founded in 2015 and located in Tianjin, China, Koala Space is a gallery aiming to promote the transmission and communication of contemporary art. Thus, the space devotes to giving the regional culture of contemporary Chinese art a new possibility.
Working closely with media, art museums, non-profit art organizations, auction houses and art institutes, Koala Space attempts at exclusively introducing young emerging artists who have great potentials. With open minds and diverse professional and cultural perspectives, Koala Space hopes to build an international platform of showcasing and communicating for young artists.
About the exhibition
Date: March 26, 2016 – April 26, 2016
Venue: Koala Space
Courtesy of the artist and Koala Space.
Related posts: