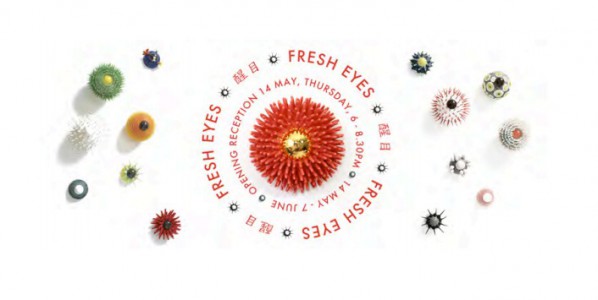 Art Projects Gallery is delighted to present "FRESH EYES", showcasing the latest collection of ceramic sculptures by Korean artist Myung Nam An. Based in the UK, this is Myung Nam An's first solo exhibition in Hong Kong.
Myung Nam An's works reflects and celebrates the everyday life and people, from which she derives her inspiration. Featuring vibrant colors and fascinating textures, Myung Nam An's ceramics sculptures–each one unique and possessing an otherworldly physical appearance–convey a sense of mystery and unfamiliarity that prompt a deeper emotional response from the viewers. The viewers are encouraged to form their own interpretations of the objects based on their personal feelings, thoughts and experiences. Myung Nam An's sculptures become windows to the artist's inner world while at the same time, offer the viewers a fresh introspective perspective to their own.
Born in 1969 in Seoul, Myung Nam An's works have been shown in numerous gallery exhibitions and art fairs internationally, including New York, London, Hong Kong and Singapore.
ARTIST'S STATEMENT
Art is a lifestyle for me. Everything that surrounds and excites me is automatically processed and transformed into the final result: an artwork. It is fascinating to watch the transitions from life to art. The essence of my work is the human being and their everyday life. I find ceramic to be the most versatile material and it is suited to express my ideas. Working in clay is really deep and has much to interest me: philosophy, technique and so on.
In my work, I like to tell stories using symbols which are universal, when you look at my work you could tell your own story, and would interpret what you see in your own way and each work in the series is created to evoke a different moods and emotions. I am exploring abstract appropriated images from our culture and translating these onto the surface of my work. I feel that they address or allude to specific ideals that interest me. It has always been my goal as an artist to make work that speaks to the viewer on a deeper level.
My works are a step in my ongoing growth toward a personal and unique approach to clay. It is my hope that these images will provoke thought in the viewer. The characteristics and limitations of the materials is a fundamental issue for me. I make use of a working process that is based on analysis and experience. I approach my work in a formal and aesthetic way. That does not mean that emotionality and sensuality are set aside, on the contrary, I go for a cool expression with sensitive undertones and thereby join an abstract, new formalistic movement in contemporary art.
About Art Projects Gallery
Art Projects Gallery is a Hong Kong-based art gallery established in March 2010 that specializes in contemporary fine arts. Founded by two architects, Anng Tan and Rayvees Goh, Art Projects Gallery represents established artists as well as emerging artists, with the aim to promote and encourage artistic innovation in content, technique and medium.
About the exhibition
Opening Reception with artist Myung Nam An: 14 May 2015, Thursday, 6.00 – 8.30pm
Exhibition Duration: 14 May – 7 June 2015
Venue: Art Projects Gallery
Address: Unit S510, 5/F, Block A, PMQ, 35 Aberdeen Street Central, Hong Kong
Courtesy of the artist and Art Projects Gallery, for further information please contact Anng Tan via Tel : +852 6505 3036/Email :anng@artprojectsasia.com or visit
www.artprojectsasia.com.

Related posts: