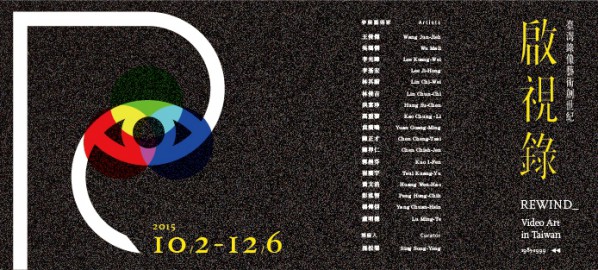 Video art is a paradigm flourishing in the registers of contemporary art in Taiwan. However, the public has only a limited understanding of Taiwan's video art and its evolution. The genealogy of related artworks also needs to be reconstructed in a precise manner. In view of these insufficiencies, this exhibition features the development of Taiwan's video art between the 1980s and the 1990s. It also reconstructs the genealogy of related artworks by collating the files of the two-decade development of this paradigm, and thereby charts the courses of its orientation and evolution in aspects of history, aesthetics, technology, and so forth.
1983 is the inaugural year of Taiwan's video art. In October Kuo I-Fen presented three video installations, namely In the Corner, The Last Party, and The Quiet Sound in the University of Tsukuba in Japan. In December, Kao Chung-Li presented his work Grooming at the AIT American Cultural Center. In the following 2 years, more single-channel videos came to life, such as Chen Chieh-Jen screened a looping video of deadly scene, Hung Su-Chen created East/West, Wang Jun-Jieh filmed his maiden video work The Variable Form, and Yuan Goang-Ming was debuted with About Millet's The Angelus. In the same time, Lu Ming-Te and Kuo I-Fen launched video installation Silent Body with performance.
Throughout the 1990s, Taiwan's video art became an art field of remarkable diversity in terms of artist, practice, and theme. For example, a great number of Taiwanese video artists, such as Chen Cheng-Tsai, Wu Mali, Lin Chun-Chi, Lee Kuang-Wei, Yang Chuan-Hsin, Lin Chi-Wei, Lee Ji-Hong, Huang Wen-Hao, Peng Hung-Chih, and Tsui Kuang-Yu, have developed their own unique styles from their utterly disparate backgrounds. They define and extend the boundaries of Taiwan's video art by bringing in it new themes such as political critique, personal reflection, virtuality-reality relation, and new horizons.
To reconstruct the genealogy of Taiwan's video art, this exhibition invites 17 Taiwanese artists of different generations to display or re-produce their early works. The 57 pieces of exhibited works encompass a riotous profusion of genres ranging from video installations and video sculptures to single-channel videos and performance art videos. They not only constitute the underlying structure of this exhibition, but also outline the developmental trajectory of Taiwan's video art.
In addition to giving their original works new appearances, some of the participating artists (Kuo I-Fen, Lu Ming-Te, and Lin Chun-Chi) are invited to stage the revivals of their performance artworks during the exhibition. The exhibition is accompanied by the display of related manuscripts, photos, pamphlets, posters, monographs, and video camera. Such a curatorial approach not only explicates the context and orientation of Taiwan's video art between the 1980s and the 1990s, but also creates congenial (non-) material conditions and strands of thought that offer us great visceral thrills.
Kuandu Museum of Fine Arts attempts to systematically explore the development of video art in Asian countries since the 1960s in terms of aesthetics, technology, and theory. To achieve this goal, the museum organizes the International Conference on Video Art in Asia: Histories, Aesthetics and Theories, treating it as a congenial platform for experts and scholars from many Asian countries such as China, Japan, South Korea, Taiwan, and Vietnam to exchange their diverse observations and experiences regarding video art, thereby establishing the cornerstone for constructive dialogues among Asian countries.
About the exhibition
Date: 2015-10-02 ~ 2015-12-06
Venue: Kuandu Museum of Fine Arts
Curator: Sing Song-Yong
Participating artists: Chen Cheng-Tsai, Chen Chieh-Jen, Huang Wen-Hao, Hung Su-Chen, Kao Chung-Li, Kuo I-Fen, Lee Kuang-Wei, Lee Ji-Hong, Lin Chi-Wei, Lin Chun-Chi, Lu Ming-Te, Peng Hung-Chih, Tsui Kuang-Yu, Wang Jun-Jieh, Wu Mali, Yang Chuan-Hsin, Yuan Goang-Ming
Courtesy of the artists and Kuandu Museum of Fine Arts, for further information please visit www.kdmofa.tnua.edu.tw.
Related posts: