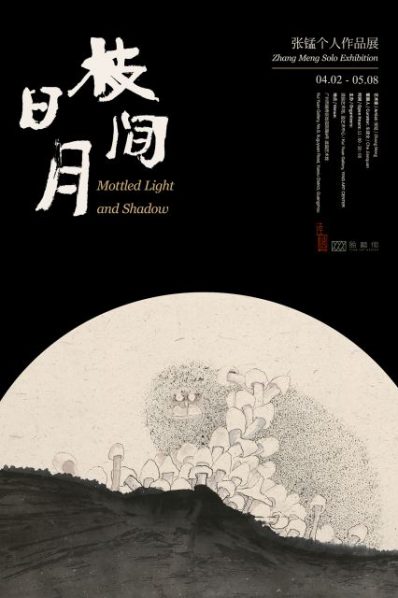 Zhang Meng's art reveals his inner world, one that reflects an intuitive return to his real nature. Regardless of his materials or subject matters: cold branches, snow falls, mushrooms, monkeys, walking away shadows, or even rushing tigers, they all play important roles in his own narratives. More importantly, these are the inherent clues that have constructed the internal.
Sometimes, just as walking between branches lightly and cautiously, he is able to observe keenly, picks fast, and hides quietly. He always keeps ears open and listens closely to the sound of beasts and meteors, or immerses in the circulations of sunrise and sunset. Then, he notes his observation, collects the pickings, secretly pleased by the concealed, earnestly remembers the sound of fear and sacredness, and cherishes the memories of fleeting moments, of all have constituted the work of an ape leaping between branches.
"Fierce Tigers with Golden Chains" reveals the artist's inner conflicts and struggles. It proposes the question of pursuing freedom by physical attachments. Hesitations emerged from natural instincts and existed restraints often show his struggling nature and self examination. The conflicts between ideal and reality has also been constantly testing the conscious minds. This conflict reminds us the confrontation with the cold and realistic fairyland.
The artistic conception of "Green Bean Heaven" is weightless, slow, empty-spirit and long. It brings you along to drown in weightlessness and addiction, and with his endless flow of mind, it has formed another one of his perspectives: one to unload the burdens of life, and to travel far in the world to shine on everything it touches. Zhang Meng's world is one full of perceptions, and it requires the same from the audience to enter his artistic creation: ideality and inner drama, among these shines through a lighted path.
Text by Che Jianquan
About the exhibition
Dates: Apr 2, 2017 – May 8, 2017
Opening: April 2, 2017, 15:00
Venue: Kui Yuan Gallery
Courtesy of the artist and Kui Yuan Gallery, for further information please visit www.kuiyuangallery.cn.
Related posts: