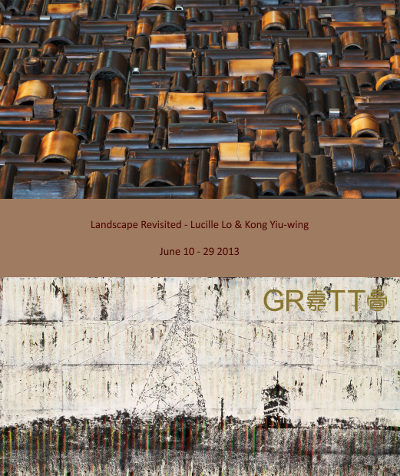 Grotto Fine Art takes great pleasure in presenting Landscape Revisited, a joint exhibition of Lucille Lo and Kong Yiu-wing. Featuring works in mixed media using different materials ranging from oil paint, Ink, paper and wood, Landscape Revisited presents a profound view into cultural, civilization and social change by utilizing symbolic material in their unique painting style.
Lucille Lo is a former traditional Chinese painter, Lo ventured into oil and mixed media painting in recent years in search of a more personal expression, striving to express the fusion and the contradiction of Eastern and Western cultures.
Kong Yiu-wing practices silkscreen technique in his oil painting to achieve a multi-layer composition, showing scenery in the borderbetween urban and nature. Kong is interested in unnoted spaces rather than spaces that experienced human civilization, congesting with various kinds of knowledge and incapable to contain room for imagination. Kong believe that unnoted space contain possibility, allowing him to explore the uncertainty between virtual and real.
About the exhibition
Duration: 10-29 Jun 2013
Venue: Grotto Fine Art Ltd
Opening Hours: 11:00-19:00 Mon-Sat (Closed Sunday & public holidays)
Tel: 852-21212270
Add: 2/F 31C-D Wyndham Street, Central, Hong Kong
Courtesy of the artists and Grotto Fine Art Ltd, for further information please visit www.grottofineart.com.
Related posts: