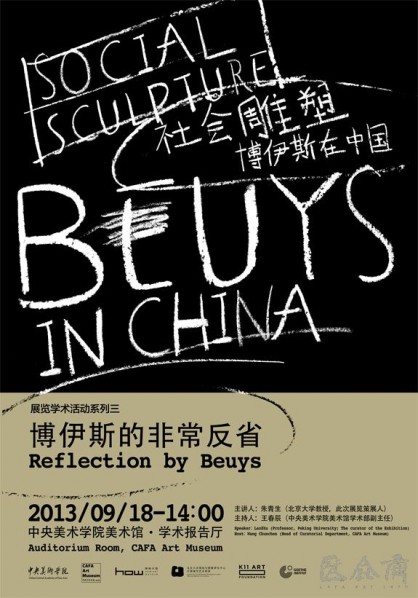 At 14:00 on September 18, 2013, LaoZhu, Professor of History of Art, Peking University gave a special lecture about "Beuys" at the Auditorium Room of CAFA Art Museum, combining with "Social Sculpture – Beuys in China" exhibition. Wang Huangsheng, Director of CAFA Art Museum, and Prof. Wang Chunchen were invited to present at the event.
LaoZhu initially stated the two purposes of planning the exhibition: he initially said there was a funny tendency: contemporary art had became a style. But in fact, contemporary art should be an attitude, a persistent process. What were the standards and principles of contemporary art? Art is taking place, political and physical events are two key factors. It is necessary that contemporary art has both a political presence and contemporary aesthetics, and thus interferes with our present lives. Through Beuys, we could think and reflect on contemporary art.
Secondly, we couldn't use this exhibition to pay tribute to the artist, but also beyond him. How to realize it? Current fiery contemporary Chinese art had an obvious trace of imitation from Western art, and was accepted by the West in the 1980s and 1990s. We should be wary of such an exotic style selected according to Westerners' taste. It was a starting point for Beuys' exhibition in 1988, and also extended to the point of departure for this exhibition today.
About Beuys's characteristics, Prof. LaoZhu thought his art represented the art of a person that expresses the power relations between people. He believed that the artist was capable of inspiring people to become new artists, to be creative. This was not only the contribution of Beuys, but also his issue. He had always been a leader, attempting to benefit more people, pursued by the generation of Beuys. He offered a reflection of the rational spirit of Enlightenment. Humanity as a whole was greater than the rational, modernity, the desire for progress. His profound influence came from his extraordinary reflection.
Beuys used to be pilot when he was young, the experience he was once rescued made him have a strong desire to use butter and blanket for the creation of works, which is mixed with a lot of fantasies, to begin a self-examination of the war. Beuys' reflection had never been about the evils of war, but to attempt to reveal the origin of the desire to wage a war, and the impact on our lives. During the Cold War, his reflection didn't have a fixed political ideal. How did people know how to survive? Through his works and his body, he broke the present rules, to propose an unknown possibility. In addition, LaoZhu emphasized that the wonderful forms of his works were often ignored, compared with the temporary madness in his works. His subtle forms had a power to penetrate into people's hearts, beyond the language, often moving and surprising people.
After that, LaoZhu discoursed the danger of Beuys in detail, which was he took possession of the power of human consciousness. In fact, the privilege of a genius was that the artist made a lasting invasion to the human right with the use of his charisma. Because the abilities of sense and artistic creativities of people are not equal, people had always given up their freedom of perception in the shadow of the artist's aura, contrary to the ultimate goal of people in the pursuit of justice. It was necessary to launch such an exhibition, which would give people an intuitive impression of contemporary art, when it arrived at China, people learned that Beuys was an object which needed to be confronted and transcended from.
Q & A section
Beuys always had an anti- museum tendency, how do we reflect upon Beuys in the way of an exhibition?
LaoZhu: He actually didn't reject it, while he was a good performer. He loved to be concerned and exhibit, being in line with the institution, of a dual character. His friend once said, in the exhibition at the Guggenheim, Beuys meticulously harmonized the arrangement and display of the sleigh pulling a blanket, placing his works with a purpose, which was a very museum-experienced approach.
How did Beuys go beyond Duchamp?
Lao Zhu: Beuys was one of the artists of the last generation to impact on us in the history of art. History has given the artist some specific mission, Marcel Duchamp put non-art into art, cheap, denying labor, all people can do it, impossible to gaze, all of which are Duchamp's characteristics. Just like an old Zen monk in preaching to the young Zen monk, while it misses a normative and field. He transformed it into an absurd game, while Beuys changed the trick to be a social contribution.
Cai Guoqiang and Ai Weiwei, the former reflects on Beuys's occasions, while the latter is the reflection of humanity and politics, whether they have gone beyond Beuys?
LaoZhu: Ai Weiwei better understood Beuys, and has more similar practices. Beuys focused on democracy, while Ai Weiwei is for the Chinese government. Cai slightly went beyond Beuys, because his works show that an artist should offer an encounter instead of an enlightenment. But later, he slightly stepped back, making installations which were similar to Beuys's. I hope he can continue to move forward.
Could you talk about the artistic boundary?
LaoZhu: Hans Betting had said art was ended, which was a concept speculated by publishing. Art is defined as the art of art in the process of historical development. A lot of things that used to be called art are about the record of images and the narrative of events, which are replaced by media and newspaper, etc. Art is not ended, but the boundaries of art have finally been proven ineffective. The end of easel painting means the real beginning of art. The lights reflected by people's responsibilities, attitudes and abilities are objects of the aesthetic.
What is the relation between Beuys and the present public at that time?
Lao Zhu: He made the audience a part of the works, which was an encounter. But he did not play with the audience, and it was a possibility produced from the interaction. He was admired by a lot of people at that time.
Journalist: Li Fan, Photo: Hu Zhiheng/CAFA ART INFO
Translated by Chen Peihua and edited by Sue/CAFA ART INFO
Related posts: