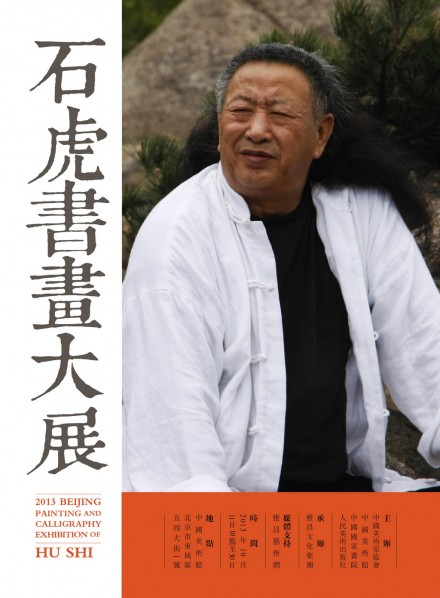 This is the largest solo exhibition Shi Hu has ever had since he engaged in art creation. Altogether there are thousands of works occupying five exhibition halls in NAMOC including scripts, calligraphy, ink painting, heavy-color painting and other forms of art which is really a feast for the eyes.
Shi Hu's painting is in a flowing and lucid style and explores contemporaneity and avant-garde of Chinese painting in art history in an inclusive way. Shi Hu sticks to integrating Chinese creative ideas with the Western ones on the basis of imitating the ancients and selectively draws lessons from Pollocks abstract representationalism and De Kooning's calligraphic black-white ink abstract in brush and ink language of Chinese painting and way of expression of traditional Western oil painting. Rooted deeply in national tradition, Shi Hu is trying to find a way of presentation at contemporary age in Chinese painting language with a history of thousands of years and explores means of expression belonging to its own nationality. As a world-renowned Chinese painter, Shi Hu's works act as the bridge of Chinese painting and the International spread and exchange and explore the road for Chinese paintings to go to the world.
About the exhibition
Duration: 2013-10-11 To 2013-10-29
Venues: Hall 1, 2, 3, 8, 9 at the National Art Museum of China
Museum hours: 9:00 a.m.-5:00 p.m.(No Entry after 4:00 p.m.)
Museum Admission Ticket: Free
Address: 1 Wusi Dajie, East District, Beijing, China, 100010
Courtesy of the artist and the National Art Museum of China, for further information please visit www.namoc.org.
Related posts: