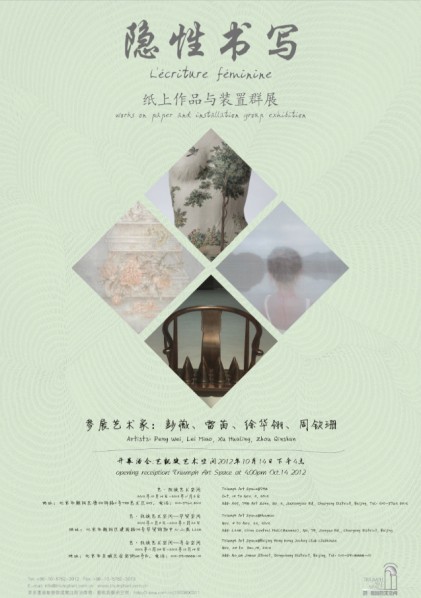 October 13th, Triumph Art Space announced the opening of an exhibition of works on paper and installations: L'écriture féminine which are co-presented by Peng Wei, Lei Miao, Zhou Qinshan and Xu Hualing. On paper, these four female artists who are of the same age eliminate the borders between tradition and modern, west and east, to express the aesthetics of L'écriture féminine, peculiar to woman artists.
Beginning in the late 19th century, the female artists in the art world began to have influence on an audience, female artists utilize their body as artistic language in their expressions, which is fueled by feminism movement. Nowadays, in the 21st century, female artists no longer advocate themselves as a minor society as a creative theme, female artists in contemporary society have transcended the gender issue to personal, day-to-day, as well as sensuous expressions. Their artistic expressions are more delicate and varied, it is their internal writing.
Among these participating artists, Pei Wei creates her works on a wide range using both eastern and western techniques. Western aesthetics can be found in her traditional paintings. From the Robes to the Painted Skin Series–Woman Body Installations, Peng Wei's creations step into a wider space, from 2-dimensional to 3-dimensional. Until her new series, Taking off the Shell, she has put her paintings into the inner faces of silk shoes. In this exhibition, these three series will all be shown together with the debut of her video artworks. Zhou Qinshan uses merbromin to express unlimited conscious as if it can heal, comfort body and soul, it is a metaphorical expression towards life and death, also a strong point of view towards life underneath its sweet color. Xu Hualing expresses a young girl's conscience and body, she uses ink on multi-layered paper and silk, it is personal, delicate yet sentimental, we can receive messages through the "female gaze". Lei Miao's Paintings are endowed with an atmosphere of mystery. Under her brush, she builds a world of her own artistic language which is silent and simple, mysterious and mellow. Although they are surrounded by noise and glitter in the contemporary art world, their artistic expressions are unique- quiet and internal writing.
Artists: Peng Wei, Lei Miao, Zhou Qinshan, Xu Hualing
About the Exhibition
Duration: Oct 14-Dec 2
Venue: Triumph Art Space
Address: Triumph Art Agency, A-05, 798 Art District No.2, Jiuxianqiao Road, Chaoyang District, Beijing 100015
TEL: +86-10-57623012 FAX: +86-10-57623013 E-MAIL: info@triumphart.com.cn
Website: www.triumphart.com.cn
Weibo: TriumphArt Space:http://t.sina.com.cn/1970890311
Courtesy of the artists and Triumph Art Space, Beijing.
Related posts: