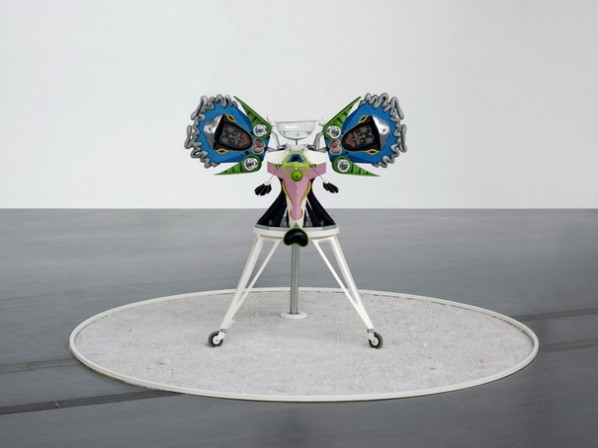 Lee Tzu-hsun' s first solo exhibition in Beijing made its debut at Pace Beijing on May 31st, 2012 and it is on view through July 7, 2012.
Lee has created a dynamic abstract style. Combining mechanical and electronic principles, he boldly introduces technology into art experiments to set up a new wave of 'form revolution'. As art is inevitably interacting with technology in this information era, Lee is constantly seeking to breakthrough into the construction of artistic forms through his flawless techniques and marvelous craft.
There is always a balance and connection within each of Lee's sculptures. His creations construct a system of new universal value to express the human longing for 'perfection' and 'balance'. In Lee's art, different colors imply a variety of personified human characteristics. Through the precise logic he has created, Lee presents his audience with a 'quasi-life' — the appearance of a conceptual existence.
Lee is a maverick artist, who carries the responsibility of 'creator' to explore every possibility that art can bring to humanity. Lee's artwork always reveals the voice of the new generation. He has adopted the abstract form to show harmonious universal order. This is not only a brand new art experiment, but also predicts the self-evolution and innovation of art.
Lee Tzu-hsun was born in 1973 in Taipei, Taiwan.He currently lives and works in Cologne, Germany and Beijing, China. He graduated from the National Fine Arts School of Dusseldorf, Germany in 2003. Considered one of the leading contemporary artists in Taiwan, Lee always tries to break the stiff boundaries between different media byexperimentingand combiningphysical structures, materials, movements, sounds and lights in his artwork in order to create a dream-like imagination in a concrete space. His artworks include painting, sculpture, architecture, theatrical design and performance arts.
About the Exhibition
Duration: 2012.5.31-7.7
Opening reception: 2012.5.31, 16:30-18:30
Add: 798 Art District, No.2 Jiuxianqiao Road, Chaoyang District, Beijing, China 100015 P.O. Box 8502
Courtesy of Lee Tzu-hsun and Pace Beijing, for further information please contact pr@pacebeijing.com or tel: +86 10 59789781.
Related posts: