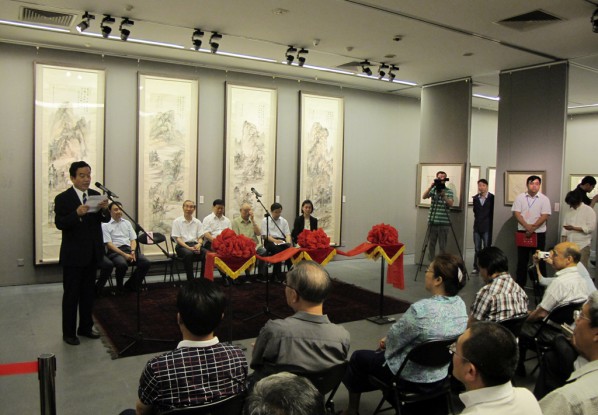 On the occasion of the 10th anniversary of the death of Mr. Qi Gong, Beijing Fine Art Academy, together with Mr. Qi Gong's family, disciples, and many institutions jointly launched"Leisure Brushwork and Treasures Left by the Predecessor – Retrospective of Qi Gong's Art" on June 30, not only cherishing the memory of Mr. Qi Gong's accomplishments, art career, humanity but also it was a visualized combing through of the various achievements of Qi Gong from a new perspective.
Zheng Wantong and Ma Biao, Vice Chairmen of the national committee of the CPPCC, Wang Mingming, Dean of Beijing Fine Art Academy, Liu Li, architectural historian, expert of Cultural Relic Identification, Deputy Party Secretary of Beijing Normal University, Tang Hui, Deputy General Manager of Rongbaozhai and other honored guests attended the exhibition opening ceremony. Wang Mingming recalled the relationship with Qi Gong, and evaluated that he was a very modest man. Liu Li said Qi Gong taught in the Beijing Normal University for 70 years, made an unique achievement in Chinese calligraphy, Chinese painting, literature, philology, and cultural relic identification, and he was also the most popular and beloved teacher, his human kindness, pursuit of studies and the professional moral culture is exemplary for teachers and students, in order to implement the important ideas put forward by the General Secretary Xi Jinping at Beijing Normal University, Beijing Normal University established the "Qi Gong Teacher Award".
"Leisure Brushwork and Treasures Left by the Predecessor–Retrospective of Qi Gong's Art" features more than 80 works by Qi Gong, covering the poems in Chinese calligraphy, a copy of the inscription rubbing and Chinese paintings, which are offered by Qi Gong's family, art institutions, collectors at home and abroad, comprehensively showcasing Mr. Qi Gong's artistic attitude of respect for tradition, the solid skills of Chinese calligraphy, as well as the profound cultural attainment. Chinese art is particular about "poem, Chinese calligraphy and painting" and this exhibition is a comprehensive display of Mr. Qi Gong's three achievements, in addition, it also leads the audience into the process of Qi Gong's imitation of his predecessors' inscription rubbings which form his unique style.
It showcases many outstanding copied works such as "Imitation of Lian Po Lin Xiangru Biography", "Imitation of Huang Zhou Han Shi Shi Tie", "Imitation of Shaoxi Poem", "Imitation of Zhu Shan Hall Sentences", and "Imitation of Huang Tingjian Interior Inscription". The section of "Chinese calligraphy of his poems" reveals the characteristic of Mr. Qi Gong as a comprehensive academic artist. In addition, the exhibition covers the works of Chinese calligraphy and painting by Qi Gong through different periods, including both the works combining Chinese painting and calligraphy and the major early paintings.
In the structure of the exhibition space, in order to highlight Qi Gong's elegant temperament, profound knowledge and the building of a carefree and leisurely connotation, after several modifications, it finally chooses bamboo curtains as a medium, through the change of light and shadow to create a scene echoing the "Treasures Left by the Predecessor" by Mr. Qi Gong. In addition, it sets up a special area for interaction, with the copy of "Big Characters Books", where the audience can personally experience imitating Chinese calligraphy.
Beijing Fine Art Academy also carefully published "Leisure Brushwork and Treasures Left by the Predecessor – Retrospective of Qi Gong's Art". A worthy recommendation is the large feature film "Qi Gong" was screened after the opening ceremony. During the exhibition, academic lectures will also be introduced.
The exhibition will last until July 13. Then the Art Museum of Beijing Fine Art Academy will launch"The 20th Century Chinese Art Masters Series".
About the exhibition
Title: "Leisure Brushwork and Treasures Left by the Predecessor – Retrospective of Qi Gong's Art"
Duration: June 30 – July 13, 2015
Opening reception: 10:00 am, June 30, 2015
Venue: Floor 1 and floor 2, Beijing Fine Art Academy
Host: CPPCC Chinese Calligraphy and Painting Studio, Central Research Institute of Culture and History, Chinese Calligraphers Association, Beijing Normal University, Beijing Calligrapher's Association, Rongbaozhai, Beijing Fine Art Academy, Beijing Xicheng District Culture Council
Organizers: Art Museum of Beijing Fine Art Academy, QiGong Calligraphy Academy
Text and photo by Zhang Wenzhi/CAFA ART INFO
Translated by Chen Peihua and edited by Sue/CAFA ART INFO
Related posts: