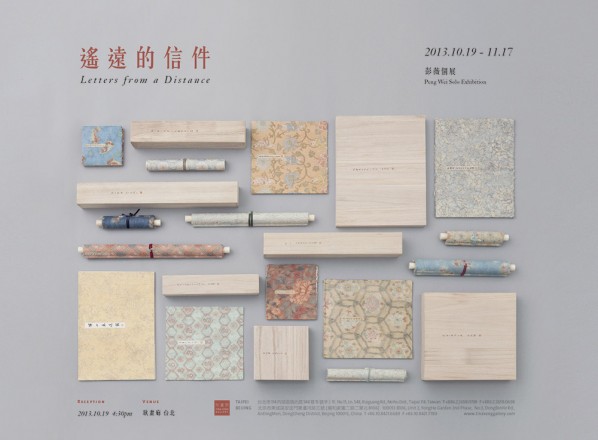 This body of pop artwork presents the idea of the ready-made in ink painting. Here, Peng Wei does not paint landscapes; she paints on the two most ancient forms, scrolls and album leaves. Every part of the artwork was handmade, including the mounting, the inscriptions, and the box.
All landscape paintings attempt to "command" nature; these paintings "command" scrolls and album leaves, but Peng Wei's skill allows people to misread them as ancient landscape paintings. This misreading transposes traditional landscape paintings and modern conceptual art, but this transposition gives Peng's work a double effect. Uli Sigg said that she uses methods that could not be more traditional in order to break with tradition, thereby bringing traditional texts and contemporary concepts together on paper.
On a deeper level, this group of paintings shows the irreplaceability and persistence of tradition. Another group of Peng Wei's paintings on rice paper, "Ink Stones," are the counterpart to the "Landscape Scrolls." She uses the same paper and ink, but the "Ink Stones" series is the extension and evolution of tradition, while the "Landscape Scroll" series is a break from tradition. Through nearly imperceptible subversion, Peng carefully protects tradition's integrity. As Jean-Claude Carrière once said, "The past never stops surprising; it is more titan than the present, more perhaps even than the future."
About the artist
Peng Wei's work combines classical Chinese painting and subjects with altered traditional and contemporary materials. She has focused much of her work on garments and embroidered shoes. In the recent years, she has expanded her practice by applying "traditional" Chinese paintings onto three-dimensional objects and creating installation art, without losing the meaning and proficiency of the traditional Chinese works. Peng Wei's most recent solo exhibition was held at the He Xiangning Art Museum, Shenzhen, China (Taking off the Shell – Works by Peng Wei 2002-2011 (2011) and Tina Keng Gallery in 2010 (Body & Robe – Peng Wei's Solo Exhibition (2010.5.15-6.20), and has also had solo shows in Beijing, Hong Kong, and Shanghai. Her works have also been included in group shows worldwide, including in Lucerne, Switzerland(2011), Brussels, Belgium(2009), Berlin and Dresden, Germany (2004), Kuala Lumpur, Malaysia (2004), and Fukuoka, Japan (2004).
About the exhibition
Dates: 10/19/2013 – 11/17/2013
Reception: 2013.10.19 4:30pm
Venue: Tina Keng Gallery
Courtesy of the artist and Tina Keng Gallery, for further information please visit tinakenggallery.com.
Related posts: