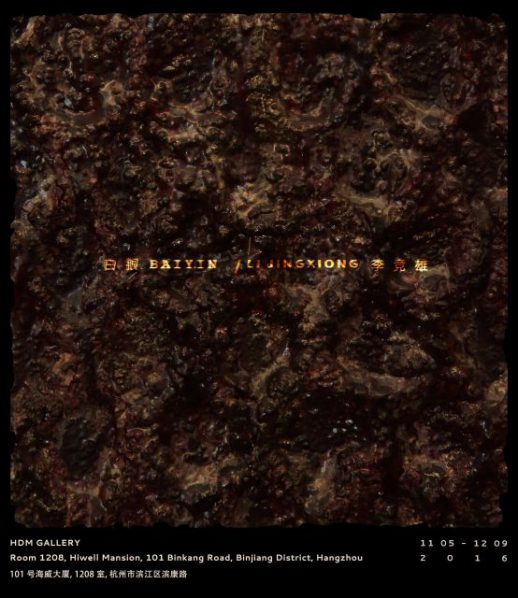 HDM Gallery presents Li Jingxiong's solo exhibition in Hangzhou. This is the first collaboration between Li Jingxiong and HDM gallery. The exhibition will display a series of works including paintings and installations with an unconventional meaning. Those works are the continuation of the way the artist responds to reality with his intuition.
The exhibition represents two series – "BAIYIN" ("白银") and "OK Computer" ("好的计算机"), including 8 pieces of paintings made of mixed materials and 2 installations. His works are set against the background of Chinese reality, highlighting the aesthetic system of violence and social pessimism that the world is not concerned about. At the same time, "fire" as an important tool in the process of creation, is a direct result of Li Jingxiong's embrace of "chaos" and "lack of control". It faithfully records the fight of disorder and order.
"BAIYIN" ("白银") refers to a well-known serial murder. This series of works was sprayed with fire, mixed with industrial pigments and waste materials. They are either placed against the wall, or hung on five pieces of steels. Li Jingxiong hopes to use such a highly conceptual way to state the only value of his job: creating works as a balance tool for the social system and exposing the shield of reality.
"OK Computer" ("好的计算机") is the product of Li Jingxiong's reaction to the computer revolution. Its name comes from the Radiohead music album, which also expressed the concern about the enslavement of humans by computers. This series of works is the product of direct burning of the computer bodies which are then put re-assembled and reorganized. The artist literally translates its name as "good computer" in Chinese, as a play on words that makes people reflect on their meaning.
About the exhibition
Dates: Nov 5, 2016 – Dec 17, 2016
Venue: HDM Gallery
Courtesy of the artist and HDM Gallery, for further information please visit http://hdemontferrand.com.
Related posts: