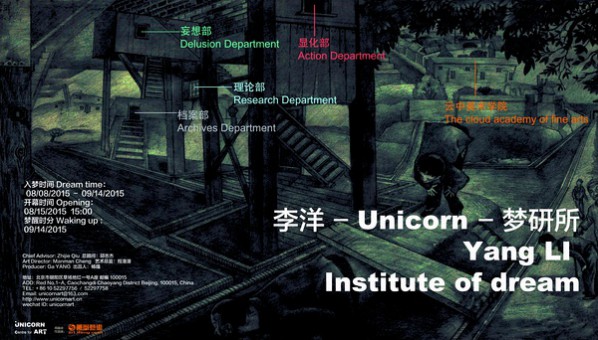 "It is a truth that people have dreams of each other" – Li Yang
From August 15 to September 14, the artist Li Yang has a special cooperation with the Unicorn Center for Art, initially integrating the imagined "Institute of Dream" and the Unicorn Center for Art, the biggest non-profit art space in Beijing, to consider the process of the gradual establishment of the whole dream project with the exhibition content being visible, sensible, thoughtful and exchangeable, and it opens to the public over a period of nearly one month.
The audience can personally visit the exhibition and see a lot of memory materials of dreams by the artist, who draws a big panorama of mysterious dreams, as well as the special nominated lectures and the unfolding of workshops, and they can participate in the discussion and hands-on practice.
The Institute of Dream consists of 4 researching and creative departments including the Archive Department, Research Department, Delusion Department, Action Department, and an educational department: the Cloud Academy of Fine Arts. It is engaged in the past and current phenomenon of dream, trying through the systematical collection and the finishing of a large number of consecutive cases of dreams, to extract information, to gain understanding, and to be sublimed to the power of action, in order to understand and improve people's physical and mental state of present society.
The work method of The Institute of Dream starts from individual experimental long-term and systematical field investigations, from a large number of samples of the personal subconscious, gradually gathering information about the collective subconscious, to further understand, to comb through and draw the map of dream worlds of more people and to gradually have important spiritual information about the times.
In the past 25 years, the artist Li Yang has continued to use words and pictures to record his dreams, nearly 4000 dreams were recorded, and nearly 800 dreams have been drawn so far.
After understanding Li Yang's work, more and more people dicovered him and discussed their own dreams, hoping the artist would draw the dreams for them. It was astonishing that Li Yang discovered many people had the dreams that he had before, or he had a similar experience, when he had a profound cognition of various dreams and the feelings after long-term observation and description of his own dreams. In fact, our dreams can be compared and echo each other, a dream is not only an individual private affair, but also a thing of the time. It gives a foundation for practice for him to draw dreams for other people.
About Li Yang – Unicorn – Institute of Dream
Chief Advisor: Qiu Zhijie
Art Director: Cheng Manman
Producer: Yang Ga
Dream Time: August 8 – September 14, 2015
Opening: August 15, 2015 15:00
Waking Up: September 14, 2015 15:00
Lectures & Workshops:
August 15, 2015 Saturday
15:00-16:00 Opening + Performance
16:00-17:30 Li Yang Workshop of Creator's Enlightenment
August 23, 2015 Sunday
14:00 – 15:30 Li Yang Lecture "The Art of Dreaming"
15:30-17:30 Zhou Bo + Li Yang Dialogue "Surreal Tradition and Criticism: Do Chinese Society and Art World Need the Surrealism?"
August 30, 2015 Sunday
14:00-15:30 Chen Yingying Lecture "Tanbi(Romantic) Culture – Women's Hidden Utopia" series of activities
16:00-17:30 Li Zishu Lecture "The Sexual Perspective in the LGBT Movement"
September 5, 2015 Saturday
14:00-16:00 Chen Shouwen Lecture "Transpersonal Psychology and Dream Job"
16:10-17:30 Workshop To Draw Dream for You: In the Face of a Dream Lover, a Psychological Worker
About the Artist
Li Yang was born in Shanxi in 1976, currently working and living in Beijing/Taiyuan. He studied in CAFA from 1997 to 2001, graduated with a bachelor degree, and studied in CAFA from 2002 to 2005, graduated with a masters degree, since 2005, he has been an associate professor of the Department of Mural Painting, CAFA, opening the course "Analysis and Creation of Surreal Painting" etc., and he is a PhD candidate of the School of Experimental Art, CAFA since 2014.
Solo Exhibitions:
2010 Realistic Self-Healed–Hiding the Body, Reality Space in 798 Art Zone, Beijing
2007 Si Wu Xie (Aboveboard) – Li Yang's Work Exhibition, Shanghai Art Museum, Shanghai
2006 Wake Up, Long March Space, Beijing
Group Exhibitions:
2015 Up-Youth China Young Artists 2015, Beijing Times Art Museum, Beijing
2014 Up-Youth China Young Artists 2014, Beijing Times Art Museum, Beijing
2013 CAFA Teachers – Special Creative Exhibition of the Teachers from CAFA, CAFA Art Museum, Beijing
2013 The 6th Chengdu Biennale, MOCA in Chengdu
2010 Shaping – Exhibition for the Teachers from CAFA, CAFA Art Museum, Beijing
2009 CAFA's Sketch 60 Years, CAFA Art Museum, Beijing
2008 Butterfly Dream – the 2nd MOCA Shanghai Documenta, Shanghai
2008 Teachers' Works Exhibition to Celebrate the 90th Anniversary of the Founding of CAFA, CAFA Art Museum, Beijing
2008 The Era of Jelly Invitational Exhibition in Taipei, Museum of Contemporary Art, Taipei
2007 Chaos of Paintings, Ying Art Center in the 798 Art Zone, Beijing
2007 The Era of Jelly, Shanghai Art Museum, Shanghai
2006 The Intangible Shape, January Contemporary Art Gallery, Beijing
2006 Long March – Yan'an Project: Academicism Giant' Historical Novel by Long March Space in the 798 Art Zone, Yan'an Region, Shaanxi Province
2005 Involved in the Production: The 51st Venice Biennale – Virgin Garden: Emerging, work: "Creating a Painting for Wang Qiheng's 'Geomancy of Venice Biennale'", the Pavilion of China, Venice, Italy
2001 "The 1st Chengdu Biennale", work: The Story of Hair, MOCA in Chengdu, Chengdu
2001 Excellent Works Exhibition by the Graduates from National Universities and Colleges of Art, National Art Museum of China, Beijing
2001 The work of concept and painting "Story of Hair" won the first prize of the CAFA Graduation Creative Exhibition 2001 and Charles B. Wang Scholarship, CAFA Art Museum, Beijing
1998 Participated in the Exhibition of Posters to Celebrate the 80th Anniversary of the Founding of CAFA and won the first prize, CAFA Art Museum, Beijing
Published Works and Personal Interviews:
"Journal of Psychology", "Exploration of the Heart", "City Pictorial", "Chinese Elites", "Beijing Youth Weekly", "Art Research", "Art Observation", "Fine Arts", "New Weekly", "Collection(international edition)", "Chinese Art", "Chinese National Geography", "Bo Wu", "Chinese People", "Xin Bao", "Chinese Culture News", CAFA ART INFO, nuandao.com, douban.com, etc.
Currently he is a guest author of the psychology column – douban reading column, work: "Create, the Art of Dream".
Courtesy of the artist, translated by Chen Peihua and edited by Sue/CAFA ART INFO.
Related posts: