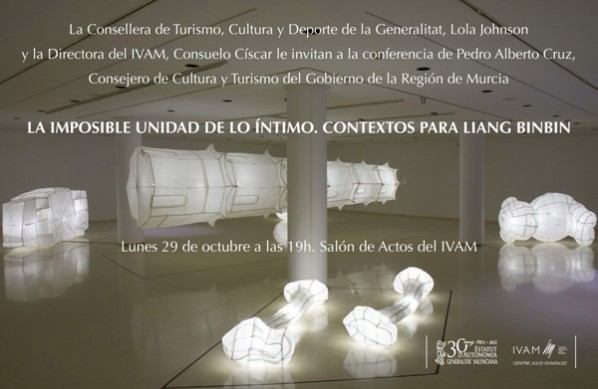 In everyone's heart lives a unique garden, as Buddha says, "to see a heaven in a wild flower and the bodhi in a tree." Rather than a courtyard itself, the word courtyard refers to a unique perspective on personal, psychological and emotional habitat that allows the object to meet a dialogued inner peace. Entitled "A Transient Universe", Liang Binbin's solo exhibition will be at IVAM, Spain until November 25, 2012.
Literally, "A Transient Universe" means that each object withdraws into itself in an unusual way, each paper sculpture forms a luminous around itself, and as the calm presents itself in the Universe after the collision of energy and the interactions of stars, no one knows what will happen the next second. Although towers, teddy bears, automobiles, bones and heart, are elements frequently presented in Liang's artwork, he believes that he never reach to familiarize with them and he need to obtain its metaphysical comprehension. He leave them (aside) in the scene and he, as a bystander, watch in silence.
Liang Binbin
Born in 1979 in Huangyan, Zhejiang Province, China, Liang Binbin graduated from Dept. Decoration Art, Beijing Institute of Art & Design, China in 1999. He received his master's degree from the Department of Sculpture, Central Academy of Fine Arts in 2005. He currently lives and works in Beijing. Main exhibitions he has participated in include: Enliven- In Between Realities and Fiction -Animamix Biennial (2009) at Today's Art Museum, Beijing, China; Metaphors of Un/Real – Animamix Biennial 2009-2010 at Museum of Contemporary Art, Shanghai, China; Butterfly Dream-Shanghai MOCA Envisage II(2008 ) at Museum of Contemporary Art, Shanghai, China; In Ward-Installation and Sculpture Exhibition(2008) at PIFO New Art Studios, Beijing, China; Here Comes Spring- New Interface IV(2008) at Red Bridge Gallery, Shanghai, China; Post ' 70 Art Archives(2008) at Beyond Art Space/Star Gallery, Beijing, China; Crafts: A Mode of Life-Cheongju International Craft Biennale(2007) at Cheongju Art Center, Korea; Interaction(2007) at Beijing Keumsan Gallery, Beijing, China; Asian Young Artists in Heyri(2007), Heyri foundation Art Space, Soul, Korea; Imagination-Chinese New Contemporary Art(2007) at Contrasts Gallery, Shanghai, China; The New Wind from China-Chinese Contemporary Art Exhibition(2007) at Gwangju Art Museum, Korea; Youth In Water(2007)at Cube Gallery, Beijing, China; Joking(2006) at Marella Gallery, Beijing, China; Ten Eras Ten Colors(2005) at SOKA Contemporary Space, Beijing, China; The 2nd Chengdu Biennale(2005) in Chengdu, China; Track Down by Following Clues(2004 ) at The Research Institute of Sculpture in Central Academy of Fine Arts, Beijing China, etc.
Courtesy of the artist and Institut Valencià d'Art Modern, for further information please visit www.ivam.es.
Related posts: