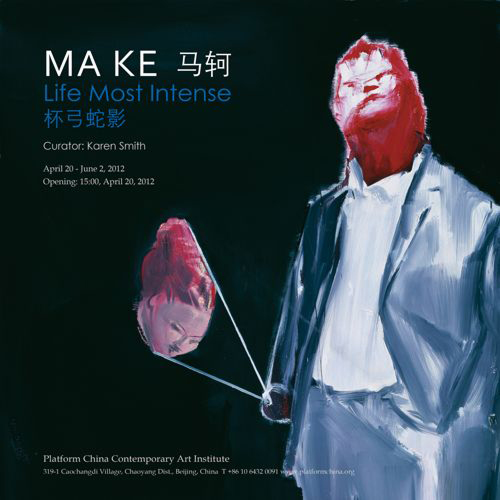 Curated by the well-known UK curator Karen Smith, Platform China is delighted to present the solo exhibition of Ma Ke. "Life Most Intense" is Ma Ke's first major solo exhibition and for anyone who owns a particular appreciation of painting, the exhibition will have been well worth the wait.
Ma Ke was born in Shandong [Zibo] in 1970. Graduated form oil painting department of Tianjin Art Academy in 1994. Then he got an opportunity which took him abroad to Africa as a volunteer teacher. When Ma Ke returned to China in 1999, he chose to pursue a second period of study under the revered abstract expressionist painter Yuan Yunsheng, at the Central Academy of Fine Arts in Beijing. Compounded with his experiences in Africa, this renewed experience of learning—which was one that included a specific focus on classical Chinese painting and culture—shaped a new direction and ambition in Ma Ke's painting. Here he turns to an established literary convention of using past examples, here classical moral fables, to point to predicaments of the present.
His paintings explore the ugly, occasionally distasteful, side of reality and human nature, but he presents it in a way that is compelling. The paintings are visualisations of the feelings he has when experiencing 'life most intensely, before routine, time and distance dull the shock and veil the memory.' Ma Ke has got us thinking and created myriad paths for our thoughts to pursue. As they do, we find he has created a mechanism for exchange and communication all too rare in today's experience of art. Ma Ke never has need of illustrating the act itself. We instinctually add up the clues he provides to arrive at the intended emotional sum. It is this conflagration and the structure within which they are presented and are balanced that sets up a mood of instability in the paintings. An acrid scent of bitterness that underscores the sorry moral tales each painting is conceived to convey. This paradox of painterly perfection is the root cause of instability in Ma Ke's painted world.
About the Exhibition
Curator: Karen Smith
Opening Party: 2012, Friday 20th of April, 3pm-6pm
Exhibition Time: 20.04.2012—18.06.2012
Venue: Platform China
Courtesy of Platform China, for further information please contact www.platformchina.org.
Related posts: