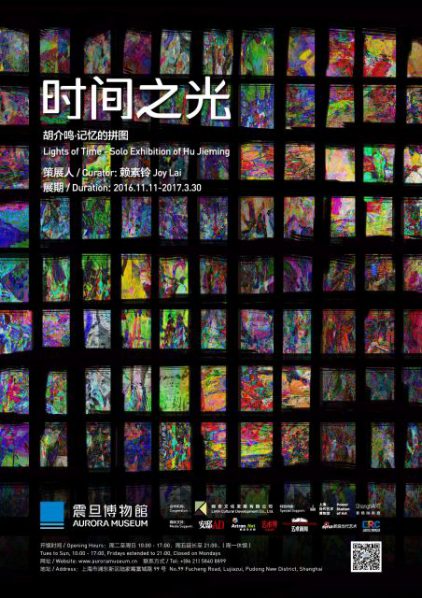 As the parallel exhibition of Shanghai Biennale, the Aurora Museum in association with the pioneer of multi-media artist Hu Jieming is honored to present his solo exhibition. Several video installations will fill in a wonderland of light and shadow, different from the enclosed white cubes. Through the memento of history of Shanghai, the artist arouses the resonance of the audiences' emotion and interactive participation by the videos and paintings, extends and expends the concept of creativity.
Hu Jieming is one of the pioneers of digital media and video installation art in today's China. One of his primary themes is the co-existence of the old and the new in a modern society. In his art he constantly comments upon and questions this concept with a variety of media including photography, video, digital interactive technology, and architectural elements, along with musical aspects.
In his highly acclaimed photo-manipulation series, "Raft of the Medusa" (2002), Hu references Theodore Gericault's allegorical 1819 painting by the same title. The historical painting served as a mytho-poetic memorial to the 150 souls lost onboard the raft after a fatal shipwreck that spared only fifteen survivors. The painting subverts the 19th Century typical heroic aesthetic by portraying a society in collapse. Hu Jieming creates a parallel between the social demise depicted in Gericault's "Medusa" and the Cultural Revolution. Hu Jieming's "Medusa", thus, is more than just a reference to the past; the photos allude to today's excess consumerism and advertisement culture. Hu Jieming also juxtaposes pictures of today's youth engaging in hedonistic acts with monochromatic pictures of suppressed citizens in traditional Mao uniforms. These compositions, made of images appropriated from different socio-political realities, signify a strong critical engagement with both history and the present – it is a concern that reaches beyond a purely private realm, and enters the public sphere.
About the artist
Hu Jieming was born in 1957 in Shanghai. He graduated from Shanghai Light Industry College, Fine Arts Department in 1984. He resides and works in Shanghai. Hu Jieming has exhibited widely. Recent shows include Reactivation – 9th Shanghai Biennale, Power Station of Art, Shanghai (2012); N Minutes Video Art Festival, Shanghai (2011); 100 Years in 1 Minute, HU Jieming Solo Exhibition, ShanghART Gallery, Shanghai (2010); Fantastic Illusions, Media Art Exhibition of Chinese And Belgian Artists, MoCA Shanghai (2009); DEAF07, Interact or Die!, V2_, Institute for the Unstable Media, Rotterdam, The Netherlands(2007); The Thirteen: Chinese Video Art Now, P.S.1, New York (2006); Between Past and Future: New Photography and Video from China, various cities in the US, U.K. and Germany(2006/2005), Zooming into Focus, National Art Museum, Beijing(2005), In their 40's, ShanghART Gallery, H-Space (2005) and 5th Shanghai Biennale: Techniques of the Visible, Shanghai Art Museum, Shanghai (2004).
About the exhibition
Dates: Nov 11, 2016 – Mar 30, 2017
Opening: Nov 10, 2016, Thursday
Venue: Aurora Museum
Courtesy of the artist and Aurora Museum, for further information please visit www.auroramuseum.cn.
Related posts: