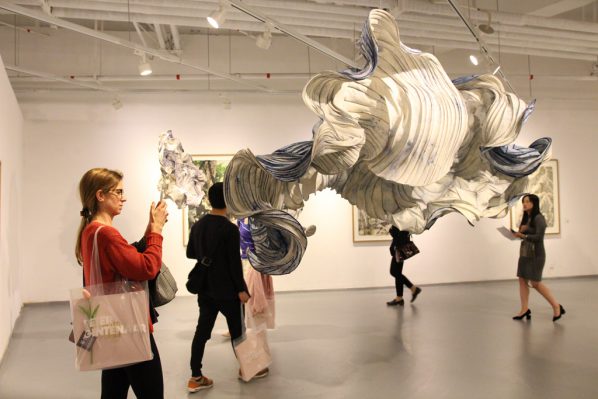 "In the Netherlands, the name for a sheet of paper is a 'leaf' of paper. This makes me think of a tree with paper leaves. Of course, this picture is pure fantasy but it is the fantasy that made me a paper artist. A flat sheet of paper has become so common that people forget how it was originally made." — Artist Peter Gentenaar
In modern society, which is increasingly dependent on electronic equipments, people always forget how paper was made. From April 29 to June 11th in 2017, the Premier Asian Exhibition of Dutch Paper Art Master Peter Gentenaar is held in Suzhou Jinji Lake Art Museum. The exhibition is the first time in Asia to showcase Peter Gentenaar's paper sculpture and paper clothing with a total of 66 pieces.
These works are made of the simplest material "paper", and this pure essence leads people to experience the gentle and powerful expression beyond materials and concepts. All these works were completed by the artist himself in the Netherlands and then transported to China. The artist is so adept at using a variety of colors and patterns to turn the flat paper into large three-dimensional paper sculptures that "paper" has become consistent with the concept of the initial form of life, turning into a bright, profound, wonderful and plain life. "From the point of view of human history and the discussion of the real world, we come from nature and will return to nature. This link between man and nature are also what Peter Gentenaar wants to convey through the exhibition. This coincides with the thought of 'harmony between man and nature' in ancient China. The civilization of the east and the west, ancient and modern, has crossed the river of time and met here. Peter's works have shown a concern for life and fully led us to think about its natural connection," commented on by Yin Weidong, Director of Suzhou Jinji Lake Art Museum.
The rapid pace of contemporary life causes confusion and hesitation, thus it seems that all the dazzling choices and numerous decisions also make it difficult for people to calm down. While the "pureness" can be taken as a thread in this exhibition as the artist presents the forms of nature and humanity, encouraging people to understand the gentle but strong expression of cross-material and cross-concept of the artworks from a new perspective. One of the Directors of the this exhibition Zhu Qiang, who also serves as the Director of Suzhou Cultural Expo Center, and the Executive Director of Suzhou Jinji Lake Art Museum was interviewed by CAFA ART INFO, he talked about the acceptance and openness of Suzhou Jinji Lake Museum to multiple art forms and the museum is willing to present international cross-boundary exhibitions. How should public art be introduced into museums has always been the issue he has been concerned about and this exhibition has been a very meaningful attempt to solve this. Along with the artist's growth in experience, Peter Gentenaar has been expecting to return to natural elements, to express his feelings "returning to the pastoral" with pure forms. Meanwhile he believes that Peter Gentenaar's exploration and efforts on paper-made fiber and related technology will bring about new inspiration for Chinese artists from the perspective of human care and scientific realization.
Zhang Siwei, Chief Executive Officer for Qu Art China, talked about their choice to present Peter Gentenaar's work in China, "he earnestly takes all elements required for the original aesthetic, and usually expresses the art by drawing hard bamboo on soft linen paper while also combining linguistic elements and forms from nature. This exhibition directly touches the current feeling prevailing in China: 'The first feeling for art should be beautiful and understandable.'"
Peter Gentenaar wants to express to the public through this exhibition—the inseparable link between humans and nature, making us think about our relationship with nature. As he stated, "In the beginning, paper fascinates the creator in you and invites you to take a side path with it. You are an artist but as you go, your material becomes a companion for you and what looked like a side path becomes a long and not always easy journey. It's a road leading through the many facets of the nature of paper. Paper has wonderful tactile qualities depending on the fibers used. As a sculptor, I found working with sheets the biggest eye opener of paper. This basic form shows everything you want to say without a load of material behind it. 'Beauty is only skin deep' is true when you look at paper. The sheet, curves in many ways, this plays the major role in my sculptures. I feel like an organic origami artist. After a life time with paper, it is amazing to me that I have been invited by Jinji Lake Art Museum in Suzhou, to hold this large exhibition together with my wife Patricia Torley, who paints with paper pulp and has worked her whole life in a different, but equally unique paper pulp technique. She fills the walls of the museum and I fill the space."
Peter Gentenaar has spent more than fifty years on papermaking art, originally as an ordinary paper user, he printed lithographs and colored prints, then he built his experience with engravings that had such deep relief that commercial paper could not fill it, since when he started to produce his own special paper…paper art has changed his life and his world. In this large-scale exhibition he shares with his wife, he gives full play to his experience of beauty and his art world for the audience in China, and his work seems to come to life as they are lifted into space in a way honoring life and nature. Inspired by paper, and forming ties with paper pulp, he began to produce the three-dimensional paper sculpture as a match that has fallen into the pulp, the art journey of Peter Gentenaar seems to have endless possibilities.
Text by Sue/CAFA ART INFO
Photo by Suzhou Jinji Lake Museum
Related posts: