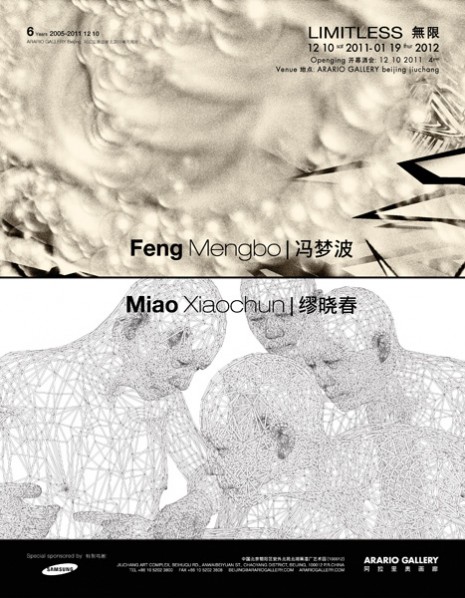 On the occasion of the 6th anniversary (2005-2011) of the Arario Beijing, it presents China's pioneering media artists Feng Mengbo and Miao Xiaochun's two solo shows, "Limitless" from December 10th 2011 through January 19th, 2012.
Since its establishment in 2005, Arario Beijing has focused on the development of Chinese new media art. In 2007 and 2009, Arario Gallery exhibited the two solo exhibitions: "Sustainable Imagination- Media Arts in China exhibition Series 1999 to 2007" and "Himalayan Project: Wang Jianwei and Nalini Malani's." The exhibitions utilized the time frame of Chinese new media art, and elaborated artists' works to explore the possibilities of sustainable development of Chinese new media art. Meanwhile, through the juxtaposition and comparison of new media art from both China and other Asian countries, the exhibition focused on the differences between various Asian artists' histories, culture , and artistic expression among the context of the global contemporary art scene.
For this event, Arario Gallery is honored to invite Feng Mengbo and Miao Xiaochun, the representative Chinese new media artists, to present their latest 3D artwork. Since 1992, Feng Mengbo has used video game and interactive technology to create art. Miao Xiaochun specializes in 3D technology, using "crystallized filters," and "layers" to transform his art. At the exhibition entitled "Limitless", the artists will display their new work, including paintings, video and installation. The variety in their art represents an unparalleled diversity in media art with the potential to lead viewers to explore a limitless expanse of creativity.
About the Artists
Miao Xiaochun, born in 1964, now lives in Beijing, and currently works in the photography and digital media studio of Central Academy of Fine Arts as a lecturer. He specializes in the use of digital media and photography creation. His works is combined with three-dimensional computer animation screen shots to show more polybasic visual effects. Miao Xiaochun is considered to be one of the most representative artists in China's new media art. His recent exhibitions include Record of spirit leaves 2011, Beijing 798 White Box Museum of Art, Miao Xiaochun, 2011, Poland Bialystok Arsenal Museum, Miao Xiaochun – Beijing Hand Scroll and Photography, 2011, Germany Berlin Guardini Foundation Gallery, Macro-Mad, 2010, Germany Koblenz Ludwig Museum, Miao Xiaochun – two great videos, 2010, Beijing Today Art Museum.
Feng Mengbo, born in 1966, now lives in Beijing, graduated from the Printmaking Department of Central Academy of Fine Arts in 1991. He was awarded the Merit Award in 2004 (Interactive Arts): Feng Mengbo: "Ah Q", Prix Ars Electronica – 2004 the International Computer Art competition. Now he is the visiting professor at the Central Academy of Fine Arts. His most popular works includes Ah Q (2002, electronic game devices, won the 2004 Austria Linz Electronic Arts Award), Long March: Restart (2008, electronic gaming devices, New York Museum of Modern Art, in 2010 show in New York PSI Art Museum). Recent solo exhibitions are Menghbo 2012; 2011 Today Art Museum; Beijing, Feng Mengbo, 2010, PS1; New York, Journey to the West; 2010, Shanghai Gallery; Shanghai, Bits, 2010, Chambers Fine Art; New York,Restart, 2009, Ullens Center for Contemporary Art, Beijing.
Artists: Feng Mengbo and Miao Xiaochun
Date:10 December, 2011 – 19 January, 2012
Space: Arario Gallery, Beijing
Courtesy of the artists and Arario Gallery, Beijing, for more information please visit www.arariobeijing.com.
Related posts: