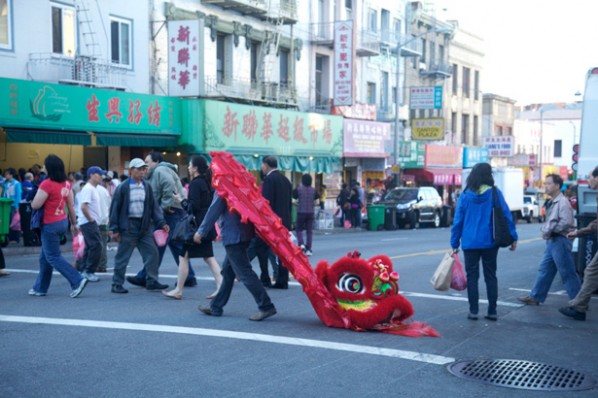 The San Francisco Art Institute hosted Lin Yilin's latest show Golden Journey earlier this month, curated by Hou Hanru. Lin Yilin: Golden Journey documents new site-specific performances by Lin Yilin, a leader of the Chinese avant-garde art world, that were created for SFAI and with SFAI students during a San Francisco residency at the Kadist Art Foundation. Golden Journey is also featured in the inaugural Asian Contemporary Art Week (ACAW) in San Francisco, initiated by the Asian Contemporary Arts Consortium and running May 12-19.
Lin Yilin is a versatile and internationally significant artist whose work has been marked strongly by his provocative urban interventions—an approach with deep resonance given the increasing attention to the politics of space and insurgent actions in the climate of the Occupy movement.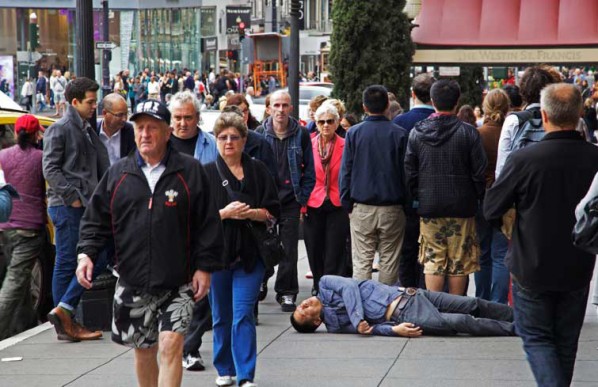 After researching San Francisco in the fall of 2011, Lin developed a series of site-specific performances that explore the urban histories of migration and immigration, with particular focus on their political implications. Working with more than three dozen participants from SFAI and Kadist, Lin created works in which he undertook actions such as slowly rolling down Lombard Street, playing cards under an American flag next to the Golden Gate Bridge, and dragging a costume dragon head through Chinatown. By disrupting the normal order of daily life, Lin creatively explores the complex relationships between humans and the built environment, the materialization of the body, and its social impacts.
Golden Journey is part of two axes of the Walter and McBean Galleries' multi-faceted programming structure: "Global Figures" and "Acting Out in the City."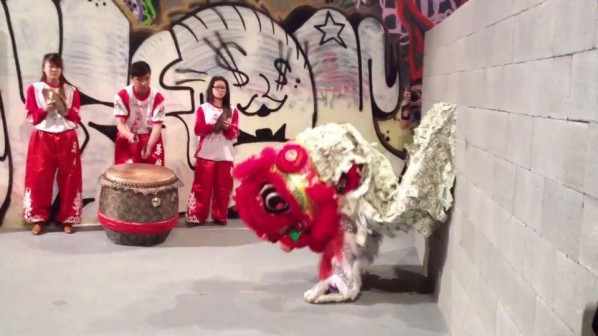 Lin Yilin
Born in 1964, Lin is a native of Guangzhou—a city that was a laboratory of China's modernization, exposed early to the outside forces of globalization and problems of accelerating industrialization and urbanization. He studied in the Sculpture Department of the Guangzhou Academy of Fine Arts. In 1990, he co-founded the Big-Tail-Elephant Group, a Guangzhou-based artistic collaborative with which SFAI curator Hou Hanru has a long history, including selecting their work for the 2003 Venice Biennale. After moving to the United States in 2001, Lin's experience as an immigrant shed new light on his ideas of economic globalization and geopolitical conflicts. Lin was awarded the Chinese Contemporary Art Award (CCAA) in 2000 and has participated in numerous important international exhibitions, including documenta 12 (2007) in Kassel, Germany; Target: Solo Exhibition (2008) at Tang Contemporary Art, Beijing, China; Zero Interface: Brave New World at Vitamin Creative Space, Guangzhou, China; and the 10th Biennale de Lyon (2009) at Lyon Museum of Contemporary Art in Lyon, France.
Kadist Art Foundation
The Kadist Art Foundation participates in the development of society through contemporary art, collecting and producing the work of artists, and conducting programs to promote their role as cultural agents. Kadist's collections include works that reflect the global scope of contemporary art, and its programs develop an active exchange between Kadist's local contexts (Paris, San Francisco) and artists, curators, academics, and art publishers worldwide. kadist.tumblr.com.
SFAI's exhibitions and public programs are supported in part by the Grants for the Arts/San Francisco Hotel Tax Fund. Lin Yilin's residency in San Francisco was hosted by Kadist Art Foundation, which also provided generous support for the exhibition.
San Francisco Art Institute
Founded in 1871, SFAI is one of the nation's oldest and most prestigious schools of higher education in contemporary art. Focusing on the interdependence of thinking, making, and learning, SFAI's academic and public programs are dedicated to excellence and diversity. For more information about SFAI, please visit www.sfai.edu
Related posts: