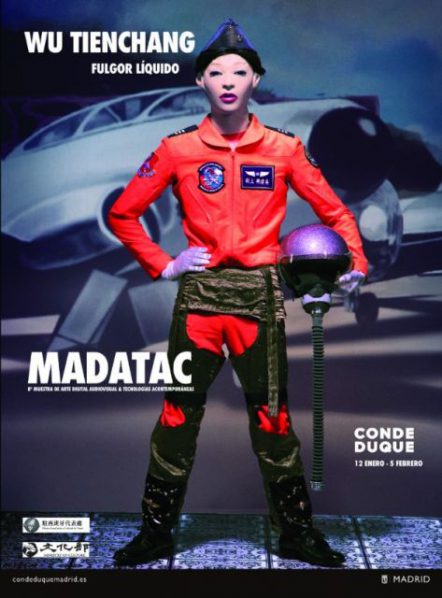 Wu Tien-chang is invited to present a solo exhibition – Liquid Glare during the 8th Muestra de Arte Digital Audiovisual Y Tecnologías Avanzadas Contemporáneas in Madrid (MADATAC 8), which is sponsored by the Ministry of Culture, Taiwan. Wu will present nine works, including Farewell, Spring and Autumn Pavilions (2015), which was shown at the Taiwan Pavilion in the 2015 Venice Biennale, as well as other video installations from the last decade. Curator of MADATAC 8, Iury Lech appreciates the highly recognizable visual aesthetics of Taiwan and the universal human spirit in Wu's work, which serve to continue the dialogue between Spanish and Taiwanese cultures, united by a brief historical past, and to foster a creative cultural bridge that brings closer the Iberian peninsula to the Formosa island. MADATAC 8 is on view from January 12th to February 5th at Conde Duque, the art centre in Madrid. During the exhibition, the MADATAC also organized a series of programs and screenings for publics.
MADATAC– Acontemporary Festival of New Media Arts & Advanced Audio Visual Technologies– is an independent, non-profit, international platform with an open, all-encompassing philosophy and an on-going commitment to education and free access. The organization emphasis is on innovation, originality, risk-taking and poetry within audio-visual, experimental and new media art works, while its objective is to provide a real, virtual and itinerant laboratory where artists can present their most recent creations to audiences, critics, curators, collectors, the academic community as well to other artists. It also aims to discover and support research work that uses new technologies applied to audio-visual arts, and recognize those cross-disciplinary artists, emerging as well as established, who challenge conventional narratives to merge the technical universe with that of the imagination; to build global bridges between artists, audiences and organizations dedicated to the most groundbreaking artistic production.
About the exhibition
Dates: Jan 12, 2017 – Feb 5, 2017
Opening: Jan 12, 2017, Thursday
Venue: Conde Duque
Courtesy of the artist and MADATAC.
Related posts: