OCAT is pleased to announce the opening of Little Movements: Self-practice in Contemporary Art. It is a project that was conceived, initiated and curated by Liu Ding, Carol Yinghua Lu and Su Wei, which includes research, discussions, publications and exhibitions. It's also the latest project in OCAT Programme for Emerging Art Practitioners 2011, following State Legacy – Research in the Visualisation of Political History and Looking through Film – Traces of Cinema and Self-Constructs in Contemporary Art.
Copyright 2011 OCT Contemporary Art Terminal of the He Xiangning Art Museum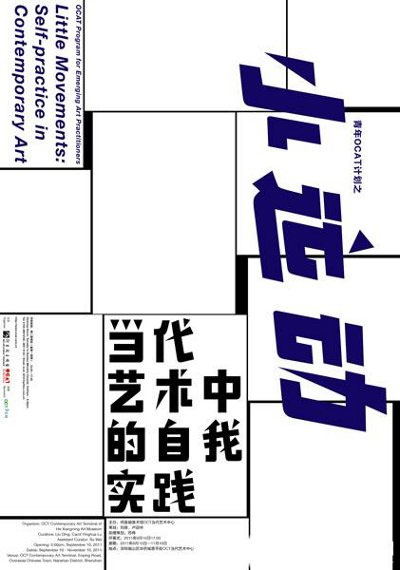 In an attempt to produce a discourse around art history and the existing structure of institutions, hierarchies and authorities, this exhibition refuses to subscribe to the linear narrative of art history narrative method while intends to reveal that in different historical periods, different creative practices existed in parallel, rooted in a profound understanding of situations and things, and that there was not a relationship of causal inevitability between them. Their parallel existence came to form a planar art history, a plane formed from various creative and revolutionary historical moments. "Little Movements" are "small initiatives that can be instigated both from within and from outside institutions that break the bonds between subjects and institutions towards a production of knowledge that moves up against the hegemonic structures." [1] One of the project's aim is to re-examine the relations between subjects and institutions.
The publication Little Movements: Self-practice in Contemporary Art, arranges the practices covered by the project into four chapters: 1, The Anxiety of Self-Definition; 2, Individual Systems; 3, Away from the Crowds, Unexpected Encounters; and 4, What is Knowledge. This publication lies somewhere between an exhibition catalogue and a critical reader. A selection of theoretical and critical essays are included not to define or interpret the practices themselves, but offer views in parallel with the practices of these "little movements" to provide a theoretical context for them, a foundation for better understanding these practices.
The research process of this project has taken the form of a series of "round-table discussions" at the sites of the practices concerned, engaging the initiators, practitioners, participants, observers and critics in deep discussions about the background, trajectory, influence and underlying artistic ideals of these practices in hopes of gaining a deeper understanding of each project's context, the problems it aimed to solve and the issues that yet remain unresolved. Videos of these discussions will be presented at the exhibition.
The research and exhibition plan of Little Movements is not a historical retrospective, though it does touch on literary and artistic practices from the 80s, 90s and 2000s. Nor is it a global assessment, though it does contain numerous practical cases from the United States and Europe. In these practices that cross time, regions and art scenes, we see parallelism, and that parallelism rests in the fact that these practices are not stressing limitless expansion but instead constantly deepening internal work. Some of these practices have already ceased, some haven't been spread very far, and some have been mentioned before as landmarks in history, but overall, their importance to art in itself has yet to be adequately recognized or discussed. Some of the practices in Little Movements are based on perceptions of certain moments in history and deeply held ideals about the shaping of the art system; some are based on dissatisfaction with the context they are in and hope for a breakthrough. Regardless of their conditions and contexts of origin, their emergence and existence, they have or soon will provide fresh insight into our existing experience and open up new space.
"Little Movements: Self-practice in Contemporary Art" will present "Global Art and Museum", They, Concept Store, Libreria Borges Institute of Art, Homeshop, Caochangdi Workstation, Polit-Sheer-Form Office, Once Is Nothing, Company, Copenhagen Free University, Small Productions, The Second World Congress of Free Artists, 1986 Zhuhai Slide Show, 51 square meter, Shuangbai Studio, Zhang Peili's New Media Art Teaching Practice, and unitednationsplaza.
[1] Irit Rogoff, An Unruly Conversation About Curatorial Responsibility, THE CRITICS, THE CURATORS, THE ARTISTS, ROTTERDAM DIALOGUES, published by Witte de With Publishers, Page 125.
Title: Little Movements: Self-practice in Contemporary Art
Organizer: OCT Contemporary Art Terminal of the He Xiangning Art Museum
Duration: 10 September–10 November 2011
Opening: 5pm, 10 September 2011
Curators: Liu Ding and Carol Yinghua Lu
Assistant Curator: Su Wei
OCAT Programme for Emerging Art Practitioners
Enping Road, Overseas Chinese Town, Nanshan
District, Shenzhen, China.
Related posts: