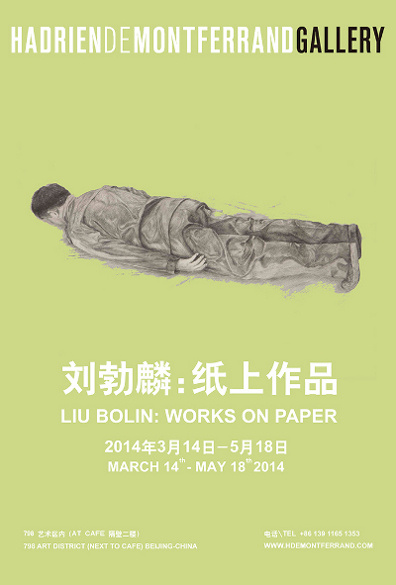 Famous for his camouflage photo series entitled "Hiding in The City", Liu Bolin is also a prolific artist working in various media including paper. HDM Gallery introduce for the first time sketches from his previous notebooks, delicate drawings, as well as a new series of colored shapes that are a step towards the production of sculptures.
The works on paper exhibition in Beijing gathers more than 40 drawings, ink on paper, acrylic on paper and sketches. It alternates between small black and white works and medium-sized colored paintings realized between 2013 and 2014. Most of his works on paper are starting points for sculptures and three-dimensional works.
About Liu Bolin
Born in 1973 in Shandong Province, Liu Bolin was trained as a sculptor in Jinan University of Arts (graduating with a BA in 1995) and in the Central Academy of Fine Arts (graduating with an MFA in 2001). He has been the assistant of Sui Jianguo, dean of the Central Academy's sculpture department.
Liu Bolin began his own independent artistic career in the early 2000's. Concerned by society's rapid transformation, the destruction of the Suojiacun art village in 2005 led him to initiate a performance where he hid himself in front of the ruins, thereby starting the "Hiding in the City" series. Liu Bolin creates a generic performance where he disappears onto a background, often connected to urban and social issues. He also explored territories outside China and developed a playful body of works. Besides, he has always been pursuing other artistic practices where works on paper occupy take pride of place. Between 1993 and 1999 he filled up more than 40 sketchbooks.
About the exhibition
Duration: Mar 14 – May 18, 2014
Venue: HDM Gallery
Opening: Mar 14, 2014 Fri 16:00
Tel: 13911651353
Add: 798 Art District, Next to At Café, No. 4 Jiuxianqiao Road, Chaoyang District, Beijing
Courtesy of the artist and Hadrien de Montferrand Gallery.
Related posts: