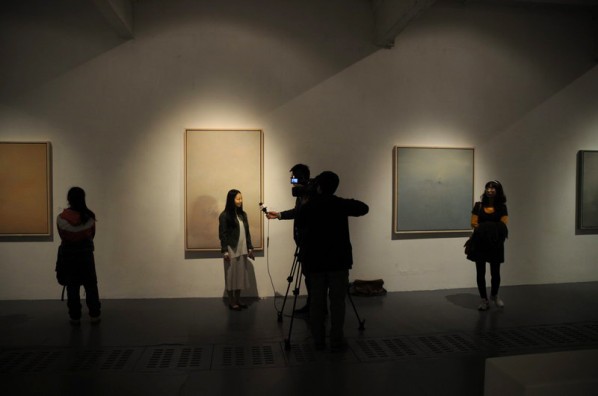 Organized by SZ Art Center and Art Nova 100 with the academic support by CCAD, "Liu Jinghong & Fan Xuqi's Solo Exhibitions: the Third Round of "Cream of the Corp – Youth Artists' Solo Exhibitions" opened at the SZ Art Center in the 798 Art District on April 20, 2013.
The opening ceremony was held on the ground floor exhibition hall of SZ Art Center at 15:00. Wang Peng, Deputy Director of the Planning and Promotion Institute of Art and Culture of Renmin University of China, Chairman of the American Foundation for Chinese Contemporary Art in China, Liu Libin, youth critics of CAFA, artists Liu Jinghong and Fan Xuqi, as well as Wang Xiao, the representative of the young collectors presented and respectively gave a speech at the opening ceremony.
As the Academic Adviser of the exhibition, Liu Libin said it was the 3rd time he had participated in "Cream of the Corp – Youth Artists' Solo Exhibitions", and he was deeply touched by the works during the selection. He believed that Art Nova 100 provided a good platform for the young artists, organizing various activities, promoting the development of contemporary Chinese art. Liu Jinghong admitted frankly that it was his first solo exhibition, and organizing an exhibition was really irrefutable hard. Fan Xuqi expressed the value of her painting with the sentence "No dust in the mind, no mind in the painting".
Wang Peng talked about the works of the artists from the perspective of brand package, he said: "Painting the system of national culture. Firstly, culture includes spirit, by seeing the paintings of Liu Jinghong and Fan Xuqi, I feel "enlightenment", enlightening and creating with their minds. Secondly, culture includes content, a related subject to portray. Thirdly, culture includes symbols, which involve traditional culture, to express them. I think they have the very three qualities for the painter package."
In this exhibition, Liu Jinghong and Fan Xuqi feature their paintings of different styles, but it is obvious that they both promote the regression and thinking of tradition, trying to go back to nature through self reflection.
Although they have different styles, their thinking and regression to the traditional are consistent, trying to return to nature through self-reflection. As the artists themselves said "cultivation of our mind through painting", studying and understanding our lives, practicing our minds and bodies through painting, to return to the original state of a man, art, making our minds become the ultimate peace, a poetic habitat.
The exhibition lasts until April 29, 2013. At the same time, during the exhibition, the two artists shared their journey of understanding of the life of Sina Weibo "Talk" program.
Journalist: Gao Sisi, translated by Chen Peihua/CAFA ART INFO
Related posts: