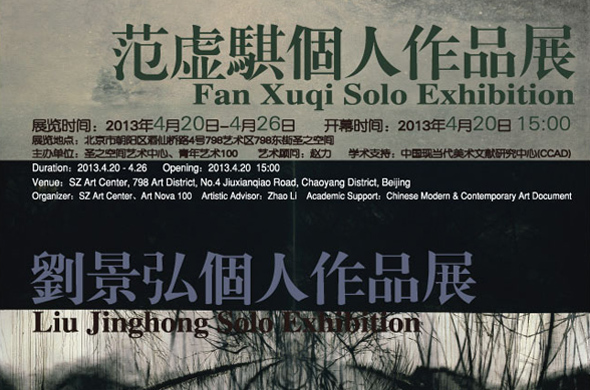 The third round of the "Cream of the Corp – Youth Artists' Solo Exhibitions": Liu Jinghong & Fan Xuqi's Solo Exhibitions will open at the SZ Art Center. It is the first show jointly held by Liu Jinghong and Fan Xuqi, featuring their recent thoughts and insight.
Fan Xuqi features "Dust Mirror" series of works, which impress people with the clear, simple, quiet, light, vacant and distant breath. She used simple and elegant colors, but they seemed to be thick, because each screen was made by repeated wiping and superimposed colours. The birds and butterflies in the paintings are the natural lives full of spirituality, and some of them are the misappropriation of the details of ancient paintings, such as the birds of "Sketch of Rare Birds", and three butterflies in the "Sketch of Butterflies Figure" of Emperor Huizong of the Song Dynasty, a pair of cranes in the "Snow Plum Flowers and a Pair of Cranes Figure", through such a conversion, the lives are full of spirituality as they pass through time and space, and also ignite her memory and thoughts on ancient traditional culture.
Different from Fan's gentle, demure and sweet works that belong to a woman, Liu Jinghong works are quite manly and tolerant. In the "Landscape" series, most of the screens are the views of cold ruins, and the artist tried to get rid of the traces of humanity, leaving only the pure natural landscape, or transformation of himself as a tree, a rock, dust, the earth…he prefers ink, which makes the processing of the language of the screen free from the crisp, good feeling, but becomes full of a mysterious sense. The "Landscape" series originated from his natural preference, and he hoped to achieve a realm of "doing nothing" in the "imitation of the way of nature".
Although they have different styles, their thinking and regression to tradition are consistent, trying to return to nature through self-reflection. As the artists themselves said "cultivation of our mind through painting", studying and understanding our lives, practicing our minds and bodies through painting, to return to the original state of a man, art, making our minds become the ultimate peace, a poetic habitat.
About the exhibition
Duration: April 20 – April 26, 2013
Opening: at 15:00 pm, on April 20, 2013 (Saturday)
Venue: SZ Art Center, 798 Art District, No.4 Jiuxianqiao Road, Chaoyang Road, Chaoyang District, Beijing, P.R.China
Artistic Advisor: Zhao Li
Organizers: SZ Art Center, Art Nova 100
Academic Support: Chinese Modern and Contemporary Art Document
Translated by Chen Peihua/CAFA ART INFO
Related posts: