In 2003, Yu Fan spent a year creating a colored sculpture "Wang Rongguo" which is 3.3 meters high, in order to conclude the technique in realistic sculpture. The body of the works is huge, delicate in detail, with the full effort over time and full energy, Yu Fan made a model of an ordinary person with a great aura. This work could be seen as an important turning point in his sculptural creation, while the "reality" attains the extreme. Since then, the dream of Yu Fan is to transform into "I like producing a cup", which is interpreted as the "Vanishing of a Sculpture in the Process of Practice".1
The reality and fiction are two ends of the spectrum, actually derived from the same cause: the core issue of sculpture – "physical form". The main difference of "Sculpture" is as an art form different from other artistic expressions is that: the sculptor reflects and creates on the basis of "physical form", and the public sees it and perceives it on the same basis, which is very different from visual illusion as applied in painting, as well as the inseparable relationship between installation works and exhibiting space. The reality and fiction are two extremities of the "physical form", behind which lies the fascination of Yu Fan for extremities.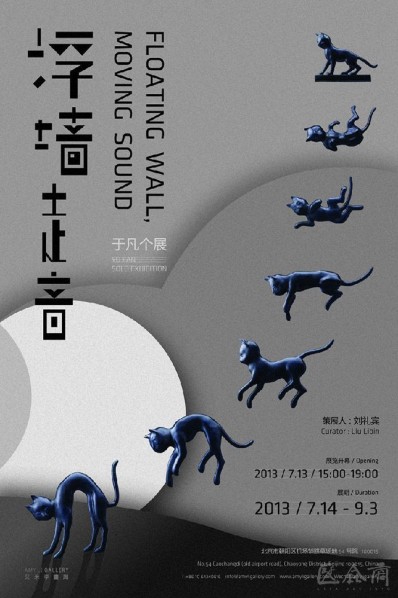 If we consider "volume" as a straight line, reality and void are each at one end of that line. Take one point on that line, apply a rotation, and the two extremities are bound in a circle. Several "straight lines" then make a round surface, and that is three dimensional Yu Fan. These many lines could be internal questions about the art of sculpture, such as "space" and "colored", etc. They could also be clues to Yu Fan's life, such as career, ideals, etc. Each of these lines has two ends, the combination of which forms the border of the round surface. Yu Fan has a special predilection for this, and he touches it lightly, carefully. Frankly speaking, Yu Fan is endless interested in the border of things which is an important quality possessed by an excellent artist. This "light and careful touch" is related to the atmosphere of vigor or heartbeat, sensitivity or morbidity that transcends his works.
Relief sculptures represent a large proportion of Yu Fan's works, and in this exhibition four works have been selected: Yu Guo at School, Leifeng Pagoda and Lily, Black Cats and Sitting Girls. One can say that the first two still exude the familiar characteristic of Yu Fan – namely freshness and purity, the combination of "Lily" symbolizing purity and "Leifeng Pagoda", bearing many historical memories, reflects an unique perspective. A simple but elegant girl at ease is in the face of "Leifeng Pagoda", carrying a story of one thousand years. The emergence of Lily fixes the time and space and turns it, so it is reminiscent of Xu Xian's poem "I am led to be a Buddhist monk, my vision is expanded. The transmigrating of birth and death have never stopped. To know if it is colored or colorless, you should understand the shape of shapeless. Color is fiction while fiction is color, color and fiction should be made clear."
Black Cats and Sitting Girls materialize Yu Fan's perspective, "Black Cat" shows a cat on a pedestal, and fixes seven positions of the cat falling to the ground. The cat in pure black exudes a wizard-like atmosphere. Chinese people believe that black cats can chase away evil spirits and sent them down South, making generations safe. But the fall of Yu Fan's black cat shows its fear of falling, making it seem closer to Western interpretation. When he created the works, he was influenced by Edgar Allan Poe' short story "The Black Cat", the hero of which is anxiety, irritability, fear, tension, remorse, hatred, what about Yu Fan's mood during this creation? Sitting Girls is composed by 16 girls' relief sculptures. These girls are fashionably dressed, and are all in a reserved but desirable position, seemingly eager for something, to a certain extent, however keeping it in an unspoken modesty. This again reminds me of Yu Fan's "light and careful touch" towards the circumference.
There are another two sculptures in this exhibition: Standing Crane and Bowing Crane. One is looking down, the other up, which corresponds precisely to what I was mentioning above, the reality and the void. Placing Yu Fan's works in the space, not only relief sculptures will float, so will the walls, not only will you hear the sounds of nature, very clearly, these sounds will begin to move.
Note [1] Cited link: http://www.cafa.com.cn/c/?t=814326
Translated by Chen Peihua and edited by Sue/CAFA ART INFO
Related posts: