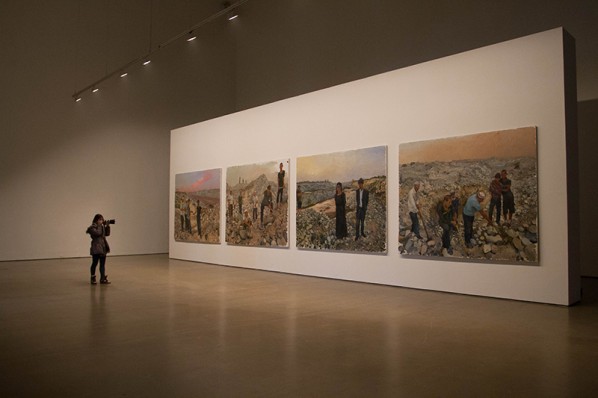 Organized by Today Art Museum, jointly curated by Hou Hanru and Ou Ning, "Liu Xiaodong's Hotan Project" in Beijing opened on January 12, 2013 on the 2nd floor of building 1, Today Art Museum. The exhibition presents "East", "South", "West" and "North", four new works produced in Xinjiang and "Liu Xiaodong's Hotan Project", a documentary film produced by A Cheng and directed by Yang Bo, at the same time, his latest accomplished works from Beijing, as well as investigation in Xinjiang, diaries, original manuscripts and other documentary materials are also on display.
Liu Xiaodong and his team arrived in Xinjiang on June 22, 2012 and commenced the two-month "Liu Xiaodong's Hotan Project" documenting the life of jade miners in the region known for reserves of precious stones. Liu carried on in his own unique way of live painting that was established while producing the Three Gorges Series (2004-2005). He set up a temporary studio in his tent to accomplish this elongated project with sketches, diaries, oil paintings and photography. A photography team was also present to create a film documentary of the entire progress. Liu thought that as a painter, erecting a tent on the spot and facing the objects, he could express the most enjoyable and most real part of the painting, beyond the past and common "reading" by artists standing in a superior position.
In order to fully display the diversity and complexity of the project and related titles, Hou Hanru, chief curator of the project launched a complex series of programs in parallel to the painting. It includes on-site research, historical research, tour exhibitions, film screenings, seminars and on-line publications. Co-curator Ou Ning led a group of researchers and journalists to complete the research programs with free expression, which involved local writers, historians, musicians, craftsmen, and others, revealing reality through public opinion on a variety of lives of local people.
The press conference of the "Liu Xiaodong's Hotan Project" was held on the 3rd floor of building 1, Today Art Museum at 15:00 pm. Guests present at the exhibition included Xie Suzhen, Director of Today Art Museum, Hou Hanru, curator of the exhibition, Ou Ning, co-curator of the exhibition, Liu Xiaodong, and others. Hou Hanru emphasized that Liu Xiaodong's artistic practice covers a series of multimedia and interdisciplinary activities, and is far beyond the category of painting. Film and literature, and even historical research have become the core content of his project implementation. His unique artistic form appeals to many professional people from different fields, such as filmmakers, historians, writers, etc. Liu Xiaodong expressed his respect for Hou Hanru and Ou Ning: "Two decades ago, they wrote an article for me – "Liu Xiaodong's Reality". Today we still work together, this at least proves that we are on the road together, with no one falling behind. There are only four decades in one's life, and it is really rare that we can still work together after two decades. Therefore, it is an opportunity to share our friendship and experiences of the last two decades with others."
The first exhibition of Liu Xiaodong's Hotan Project was held in August 2012 at Xinjiang International Exhibition Center, at the same time, a seminar "In Xinjiang: Art and Society" was held. Along with the second exhibition at Today Art Museum, there is a seminar open-to-public under the theme "In Central Asia: History and Reality", featuring experts and scholars from China and abroad, expanding the vision from Xinjiang to the entire Central Asia, it will look at academic issues brought about by Liu Xiaodong's Hotan Project from broader geographical perspectives and cultural backgrounds.
This is an endeavor to explore and reveal the diversified and complex society and cultural scenery of Xinjiang through his integration into the life of local folk. The humanitarian standpoint of the project is of clear opposition to that of the usually "exotic" attitude. It establishes an example in seeking rationality and realistic meaning for the proceeding contemporary art and cultural research in such a changing modern reality as it is.
The exhibition will be on view until February 23, 2013.
Translated by Chen Peihua and edited by Sue Wang, photo by Hu Zhiheng/CAFA ART INFO
Related activities:
In Central Asia: History and Reality
Time: 10:00 am -18:30 pm on 13 January 2013
Location: at 2nd floor of building 1, Today Art Museum
Unit 1: Central Asian Community 10:00 – 12:00 am
Presided by Ou Ning
Unit 2: Mirror Image of History 14:00 – 16:00 pm
Presided by Hou Hanru
Unit 3: Geopolitical Reality and Cultural Imagination 16:30 – 18:30 pm
Presided over by Zheng Yan
Martell Today Art Lecture/Kassel Documenta in the View of an Artist and Liverpool Biennial in the View of a Curator
Organizer: Today Art Museum
Time: 14:00 – 16:00 pm January 19, 2013 (Saturday)
Location: the 3rd floor of building 1, Today Art Museum
Today Art Cinema/Playing a Real Film Screening
A Conversation on Films between Liu Xiaodong, Du Qingchun and Yang Bo
Organizer: Today Art Museum
Guests: Liu Xiaodong, Du Qingchun and Yang Bo
Time: 10:00 – 12: 00 am, January 19, 2013 (Saturday)
Location: the 3rd of building 1, Today Art Museum
Related posts: