How closely can the basic necessities of life be drawn in paintings? In thinking about this question, you may get inspired by Liu Xiaohui's paintings.
Liu Xiaohui is an artist focusing on painting. Almost everyday of his life, he is searching for the themes of his paintings thus ideas revolve around his smooth daily life which naturally becomes the object being observed. His way home, his parents' lives, the tone of the fog and haze, red brick buildings, reflective light of the floor, a metal pot and the light shadow of all scenes can be touched on his canvas. It seems that Liu Xiaohui takes the life around him as a decorated still life and he is the recorder who stands aside with his easel and calmly strings everything together.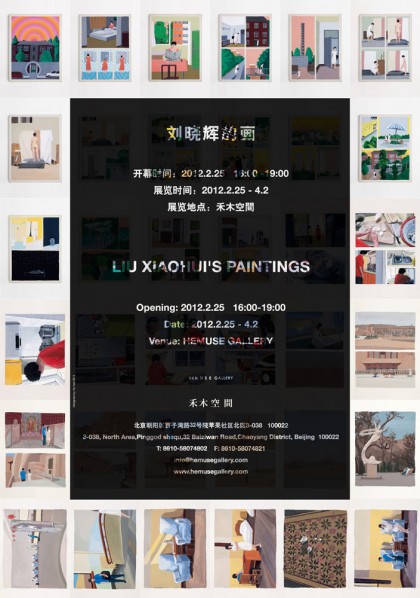 Every epoch has its emblem, prosperity or decline, confusion or vitality. For Liu Xiaohui, his life history can be referred to as the brand of his paintings. Along with the changes in his age and status, variation happens naturally in his paintings. Painting, for Liu Xiaohui, is like a "verb" which is taking place through which he experiences this world. Perhaps what really attracts him is this kind of change, which is brought about by the accidents of life.
Liu Xiaohui, born in 1975, graduated from the Department of Murals, the Central Academy of Fine Arts with a Bachelor's degree in 1990 and Master's degree in 2010. Currently teaching there, he lives and works in Beijing.
About the exhibition
Opening Ceremony: 16:00-19:00 February 25th, 2012
Date: February 25th—April 2nd, 2012
Venue: Hemuse Gallery
Address: 3-038, North Area, Pingod Shequ, 32 Baiziwan Road, Chaoyang District, Beijing
Courtesy of Liu Xiaohui and the Hemuse Gallery, for further information please visit www.hemusegallery.com
Related posts: