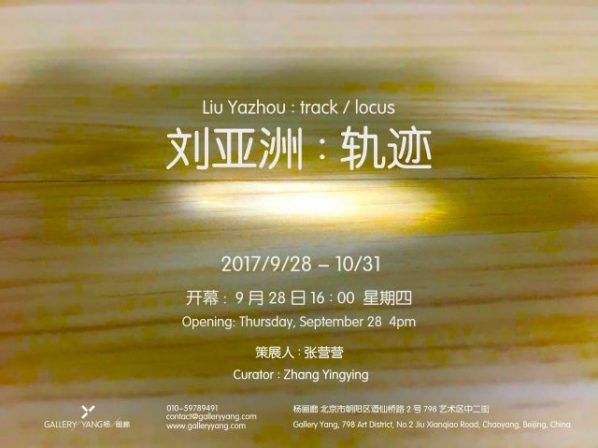 This exhibition is an encounter between a young artist and an ambivalent new space, the combination of Gallery Yang's café and its courtyard.
Nowadays, artistic activities are taking place in almost all art spaces, sometimes not confined by building boundaries. But many spaces are passive when holding exhibitions, with one mission imposed on them, that is, the arrangement and display of artistic works. We often understand a gallery space in terms of its architectural and commercial functions, rarely reminding ourselves that the air invisibly sliding in and out the building is also an intrinsic component of the space.
Gallery Yang's café and its courtyard constitute a "nonstandard" space, since it is so different from many big spaces in terms of spatial elements. Its ecological system is a natural one: a typical urban outdoor climate, four seasons, winds, rains, a café, a reception room, and a restroom. All these elements can be used by a artist and integrated into a work.
Liu Yazhou is an artist who newly graduated and received his master degree from an art college. In this exhibition, for the first time he presents his current artistic thinking and cooperates with a whole space. A new space, a new artist , and a new curator encountered, exchanging not established exhibition experiences but primitive artistic impulses. In unsteadiness always lurks some danger. The elements change, and some works of the exhibition may vanish due to certain natural or unexpected factors. So what is before the eyes of a visitor may not be the completed state of the works. As regards form, the artist abandoned the method of heaping up materials, worked in accordance with the internal mechanism of the artistic creation, and let the visual appearances of the works naturally emerge.
Liu Yazhou's works belong to an important branch of sculpture. It draws on the expressive methods of the Modernism, and integrates the changes of individual thinking in the contemporary art. Thus the concise, precise, restrained individual track of light-vision in this exhibition.
Text by Zhang Yingying
About the artist
Liu Yazhou's creation stems from a sense of strangeness brought by daily things, and this sense of strangeness often starts from the most unintended arrangement of daily things by people. He prefers to observe the existing way and state of things in the space, and tries to establish the new relationship between the "sculpture" and him, and this "sculpture"is like a verb, or an event that fails a clear beginning and ending.
About the exhibition
Curator: Zhang Yingying
Dates: Sep 28, 2017 – Oct 31, 2017
Venue: Gallery Yang
Courtesy of the artist and Gallery Yang, for furthr information please visit www.galleryyang.com.
Related posts: