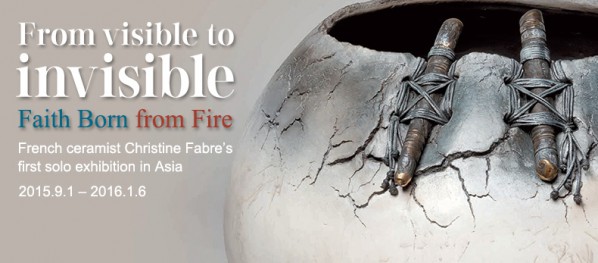 On September 1st, a LIULI partnership with world-class contemporary art center Galerie Capazza brought the likes of ceramic virtuoso Christine Fabre to LIULI China Museum for the opening night of her first solo exhibit in Asia. The exhibit, titled From Visible to Invisible: Faith Born from Fire, will extend through January 6th of the next year.
Fabre's ceramics are widely celebrated in Europe, exhibited in half a dozen countries and publicly collected in Ville de Villeurbanne, Grassi Museum, Liepzig and Musee de Sevres among other institutions. Originally inspired by Song porcelain of the 13th century, her early works imitated their ice-crack patterns and traditional glazing before eventually deviating toward what is considered a truly international contemporary style.
Tired of conventional views of elegance, Fabre began aspiring toward a more genuine expression. She combined minimalist aesthetics with the wabi-sabi philosophy in a return to our primitive roots as human society. The versatile craftswoman uses "raku" and a unique feather-and-woodchip technique to create raw, unadulterated emotion. Many of her pieces (spheres, Egyptian canopes, and African envols) speak with a disturbing-yet-refreshing sincerity. It shows the shocking beauty and elegance that can be found in the primitive and unsophisticated.
There is much more to art than just art. Chang Yi points out, "creativity, in terms of living in the present… stands for more than just creative demonstration." In Fabre's own words, working as a ceramist has given her strength and allowed her to look straight into life's sufferings.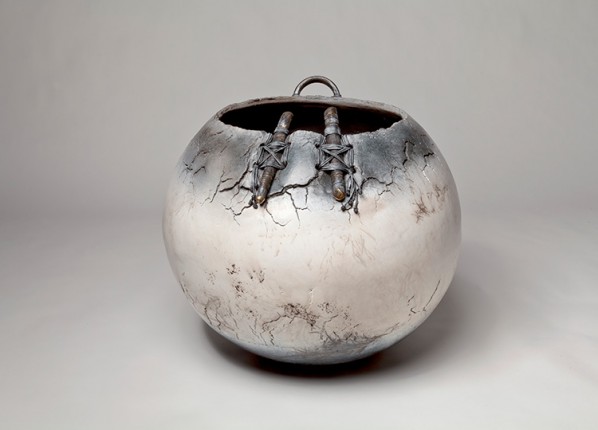 About the exhibition
Dates: 1 September 2015—January 6, 2016
Venue: LIU LI China Museum
Courtesy of the artist and LIULI China Museum, for further information please visit www.liulichinamuseum.com or http://www.liuliusa.com.
Related posts: