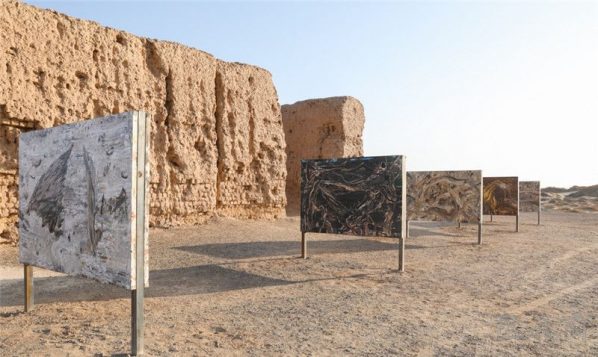 Liu Shangying prefers to paint in deserts, snowy mountains and highlands, such as the heart of Tibet and Inner Mongolia, where he can immerse himself into the wilderness and face the cruelty of nature. To me, it is not just painting from nature but putting his life to the test. As a matter of fact, painting from nature has become rare even among academic artists from the art school as advance technology can provide high-quality photos that save them from the trouble of making a difficult trip. Even if they do travel on site to paint, they can just make draft sketches. Liu, however, believes that facing the wild and dangerous nature can arouse his passion for artistic creation. It may be what Freud called "eros" or "life instinct", the drive for survival, the release of full energy in facing death, and the use of creativity against the anxiety of living.
In 2011, Liu painted a number of large landscape paintings in front of the snowy mountains in Ngari, Tibet. These paintings are grand and rough, abstract with subtle details. These paintings were well received when first shown at his solo exhibition "Myriad Visions Rise from the Void" at the National Art Museum of China in April, 2015. Unfortunately, in the following month, a fire left his studio in ruin, destroying most of his paintings done in Tibet. However, Liu was not set back by the accident, but rather fought back like warrior, and restarted painting more vigorously with greater force of expression.
This time Liu went to the deserted Ejin Banner on the Inner Mongolian border to portray the dead populus diversifolias, which forms a unique and strange landscape. They are golden in their prime time, standing like soldiers combating the wind and sand even hundreds of years after death. Even those lying in the desert can help to prevent sand and hold soil, and what's more, they provide an ideal habitat for insects and plants that struggle for life there. It is like a gateway connecting life and death.
In the "Strange Woods" formed by dead populus Liu painted on the canvas laid on the ground. Like Jackson Pollock, he dripped paint on the canvases with leaves and sands mixed into the color, as they stood for the power of nature; like Dubuffet, he carved on the canvas to build an ominous atmosphere to express a sense of mystery; Like Kiefer, he applied pigments mixed with weeds and metal, revealing the power of nature that can be reborn. While inspired by Western modern art, Liu is nourished by Chinese culture. There is a touch of the free cursive style and unrestrained spirit inherited from the ancient times. In this sense, his works are more like an action beyond painting. In the theatre of nature, his 'action painting' highlights the struggle between man and nature.
Liu's works, both in terms of creation and display, best showcase the Chinese philosophy that is based on the union of nature and man. Between 2015 and 2017 he has done altogether 31 large paintings. This exhibition, unlike the previous ones, is not held in a well-designed museum or gallery but somewhere close to the "Strange Woods": Ejin Banner in Hongcheng, a pass from the Han dynasty. Standing in front of the pass, these paintings are attacked by the wind and sand, as if fused into nature.
Even though Liu's landscape painting is abstract and does not have grand themes or tell stories, the overlapping colors and the rough texture express a sense of drama. To imitate the wind and rain, he cuts and scrapes; to symbolize the trunk and stone, he creates the effect of wrinkles and fragments. Between artistic representation, physical presence of nature and human existence, there is a kind of beauty, by no means smooth or refined, elevated human experience. We tend to associate happiness, perfection and success with sublimity, but here we have to remember what Burke said about man in nature: the experience of struggles and suffering in nature can trigger the desire to explore, conquer and evoke heroism and sublimity deep in the soul. The unique exhibition in the Gobi desert is actually a genuine embodiment of romanticism: the fragility of an individual life confronted with nature as well as the tenacity of the spirit beyond the physical realm.
Ejin Banner is the so-called "ancestral land" of the Mongolian descendants and also an ancient frontier city of the Han Dynasty called "Juyan", which was an important city on the Silk Road. This place has been of importance strategically and culturally in different historical periods. Half Mongol and half Han, Liu's art mixed with tradition and modern, local and global, expresses the strength of humankind to survive in the harshest conditions, like a desert.
Shao Yiyang
Professor, Deputy Dean of the School of Humanities, CAFA
November 2017
Related posts: