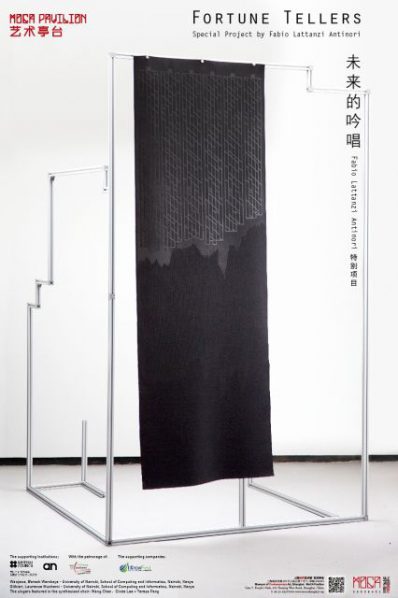 On September 21st , 2016, London based artist Fabio Lattanzi Antinori will start his special project entitled "Fortune Tellers" at MoCA Pavilion as part of the museum's new exhibition. "Fortune Tellers" is an immersive interactive audio installation, where the impermanence and fascinating fluctuation of the International financial markets mirrors the transient and vulnerable condition of human existence.
At the core of the artwork is a sculptural piece, made out of interactive surfaces and equipped with capacitive sensors, which come to life when touched by the audience. It rests on a supporting structure, which was shaped after a reading of the last few years of the Shanghai Stock Exchange and created out of profiles commonly adopted to construct temporary workspaces. The sculpture continually cross references databases of historical financial data with future predictive forecasts derived from a wide range of available and dedicated sources, in order to attempt financial predictions during the days of the exhibition; these calculations, are then used to direct an unfinished choir and chattering of synthesised intangible voices.
When the public enters in close contact with interactive surfaces, these start singing through speakers positioned within the space; when two or more of the sensing surfaces are activated at the same time by the audience, a multiplicity of overlapping voices is revealed. Each singing voice engages in a dialogue with the others, following a score, that is produced in real time by the invisible financial algorithms and being directly correlated to the potential ups and down of the capricious financial market. The quality of the choir as well as the melodies resonating in the space, will constitute the personality of the artwork, which will mainly be irregular and accidental, in so evoking fleeting feelings of delicate and poetic impermanence in the audience.
About the exhibition
Dates: Sep 21, 2016 – Oct 11, 2016
Opening: Sep 21, 2016, 18:30, Wednesday
Venue: MoCA Pavilion
Courtesy of the artist and MoCA Pavilion, for further information please visit www.mocashanghai.org.
Related posts: