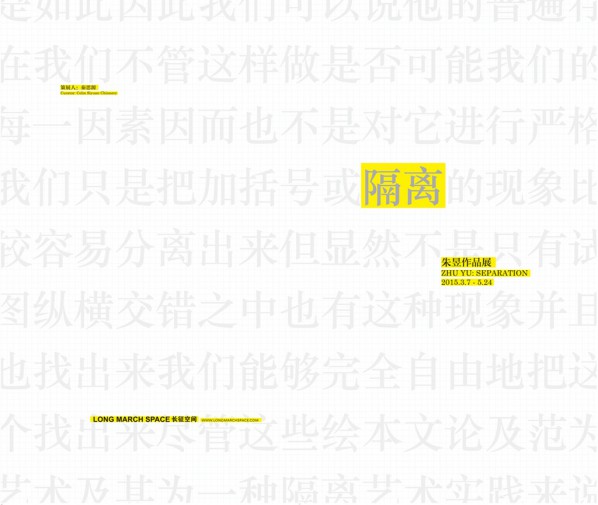 "Isolation"is the second solo exhibition from Zhu Yu at the Long March Space. Planned by Colin Chinnery, the exhibition will review the creation of painting on canvas by Zhu Yu over the last decade.
Zhu Yu is perhaps the least understood Chinese contemporary artist. Although the artist doesn't intentionally create this situation, it is inevitable with his attitude to art and related methodology. As a matter of fact, when starting with the early work that used corpses and was strongly disputed, to the present ethereal paintings with tea stains, Zhu Yu actually maintains a high degree of consistency. Although it seems to be a solo exhibition of painting, it is not an exhibition of paintings. Its real purpose is to explore Zhu Yu's way of thinking and his attitude towards the work.
Therefore, the Long March Space is set up in the inside corridor, connecting the two main exhibition halls in order to force the audience to have a strictly linear interpretation of the artworks.On the one side of the aisle it intensively presents Zhu Yu's paintings from the earliest period to the recent in chronological order, with the aesthetic perception being completely removed from the account. This way of handling rejects the individuality of each work. On the other side of the aisle, Colin Chinnery turns the curator statement into a long line of words, around the exhibition hall, and it is parallel to the work, in order to track Zhu Yu's thoughts, attitudes, and the overall concepts.
In contrast to the "interpretation" of an individual work, audiences have more freedom to watch the artist's thinking and way of working, which is a part of the core creative temperament of Zhu Yu and difficult for the audience to connect with. In the words of Zhu Yu, "I hope this exhibition eventually presents a project that condenses the 10 years of my work into a 'process'. Perhaps it is not important what I paint on the 'journey', and it is even called a way that is similar to performance."
In other words, what we see is a continuation of the art practice of Zhu Yu, and in the process of practice, he constantly polishes the precise intuition of the medium of painting, which eventually creates a completely different approach for the medium. This is the originality of Zhu Yu; he extracts and purifies a unique way of viewing and reproduction of the worldwith strict criticism of his practice. "Isolation" means Zhu Yu adheres to choosing a difficult road,his isolation blocksall temptations, so as to ensure his own creationis not blended into today's world.
Translated by Chen Peihua and edited by Sue/CAFA ART INFO
About the exhibition
Dates: Mar 7, 2015 – May 24, 2015
Opening: Mar 7, 2015, Saturday
Venue: Long March Space
Courtesy of the artist and Long March Space, for further information please visit www.longmarchspace.com.
Related posts: