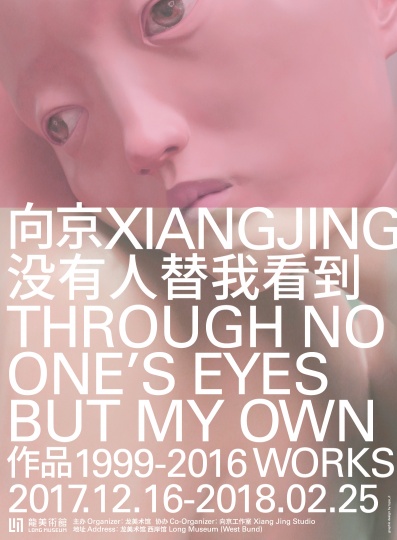 Xiang Jing is the first female artist to be given a large-scale solo exhibition at the Long Museum (West Bund). "Xiang Jing: Through No One's Eyes But My Own," a comprehensive retrospective spanning over twenty-one years of her artistic output, opens at the Long Museum in December, 2017.

The artist's five core thematic series—"Mirror Image" (1999-2002), "Keep in Silence" (2003-2005), "Naked Beyond Skin" (2006-2008), "Will Things Ever Get Better?" (2008-2011), and "S" (2012-2016)—along with a group of smaller, pedestal-mounted pieces collectively titled "I Have Seen Happiness" (2002-2010), were first shown together in Beijing in 2016. Now these pieces will be joined by others that have never been shown before, making this exhibition Xiang Jing's largest one since her graduation from the Central Academy of Fine Arts in 1995.

Long Museum (West Bund)'s lucidly articulated fair face architectural space is a challenging one to work with. How do we bring such a vast space into harmony with Xiang Jing's artworks produced in more than two decades' time? How can we be drawn in the enticed to view these artworks anew? For the first time, Long Museum will be consisting all three levels of its exhibition space, including level one, level two, and the stair-stepped main gallery, as well as altering the exhibition space entrance to construct a spiritual garden for the artist, who had been preparing for this for 21 years.
In the Long Museum exhibition, Xiang Jing renders the space itself a central topic. Periodicized contextualization of the artworks via documentation no longer constitutes the only way in for the viewer. The line of chronology broken, these works can be encountered in an entirely new space, and the subject of the gaze can be restored to each viewer, with the body of each viewer becoming the true measure of scale for artworks and gallery space. Xiang Jing believes that "viewing" is not only the physical viewing of the artworks, but also reflection and examination of one's self. The artist hopes that these artworks will belong to the physical response of each viewer and to their enchantment with the experience of being in the physical presence of the objects. This is precisely what Xiang Jing has more than once described as the "sensory apprehension" of art, something that in a sense lies beyond textual explication and which demonstrates as well how crucial it is to see works in person when it comes to validating art. This moment reveals that the sphere of art lies inside the viewer—that the pain, anguish, and joy in our lives can only be envisaged through no one's eyes but our own.

A 3600 square-meter exhibit space, a 21-year artistic journey, and more than 100 individual pieces, unmediated by technology, will open your body and allow the entry into it of art and a palpable unease and disruption.

With the opening of this exhibition, twenty-one years of Xiang Jing's creative work is published in Xiang Jing: A Complete Collection. The three-volume catalogue, published by CITIC Press, includes a catalogue of Xiang Jing's sculptures, a volume of essays and documentation, and a volume of annotations. A group of writers, including Fan Jingzhong, Dai Jinhua, Jonathan Feinberg, and Michael Kahn-Ackermann, have contributed essays and interviews composed or conducted specifically for this publication.

About the artist
Xiang Jing was born in Beijing in 1968 and graduated from the faculty of sculpture, Central Academy of Fine Arts in 1995. She taught at the Sculpture Studio of the Fine Arts College, Shanghai Normal University from 1999 to 2007. Xiang now works and lives in Beijing.

As one of the most important contemporary artists in China, 21 years of Xiang Jing's work is a unique perspective to view the transformation in contemporary Chinese art. Xiang's artwork reveals a sense of insecurity through which the misty nature of the modern human character and life itself are accentuated and reified. Xiang Jing seeks after the existential truth of life through her continued investigation of "internality" of human nature in her work. Xiang Jing's work practice is problem-oriented. Within the gradually marginalized realist sculpting language framework, Xiang Jing has made idiosyncratic and influential contemporary experiments. She shapes each of her sculptures into individual appearance and characters, hand-paints her sculptures in many layers, and chooses fiberglass as her principle material.

Since graduating in 1995, Xiang Jing moved to live in Shanghai for 10 years, against the backdrop of Chinese contemporary art fitting into the order of the world, she successfully established her unique artistic language in the topics of body and identity. Since she moved back to Beijing in 2009, thanks to the breakthrough in "Will Things Ever Get Better?", Xiang Jing has shown the world the sample of a contemporary artist thriving to go beyond her limit. In the latest "S" series with its debut in 2016, Xiang Jing brought together topics such as "multi-subjectivity", "human relationships under the power mechanism", depression, and the reverse angling and reconfiguration of memory, etc. Her artistic language is nourished by the influence of literature structure. Through self-disfigured representation, Xiang steps from narratives to abstract figurative that embody metaphors on crisis of humanity due to contemporaneity. Thus, she has made further progress on the narrow path of realist sculpture.

Xiang Jing has held solo exhibitions at numerous institutions and establishments, including Beijing Minsheng Art Museum (2016), Lehmann Maupin Gallery Hong Kong (2015), Museum of Contemporary Art Taipei (2013), Gao Magee Gallery Madrid (2012), Today Art Museum Beijing (2011), Tang Contemporary Art Beijing, Hong Kong, Bangkok (2008), and the Shanghai Art Museum (2006). Xiang's works are also exhibited at various museums in the US, the UK, Germany, Japan, Norway, Italy, Spain, the Netherlands, and Austria, etc. Her works are collected by prestigious institutions including Central Academy of Fine Arts (CAFA) Art Museum, Chazen Museum of Art at Wisconsin Madison, The Long Museum Shanghai, M+ Museum Hong Kong, Shanghai Art Museum, Today Art Museum Beijing, etc.
About the exhibition
Dates: 2017.12.16—2018.02.25
Venue: Long Museum West Bund
Courtesy of the artist and Long Museum West Bund, for further information please visit http://thelongmuseum.org.
Related posts: