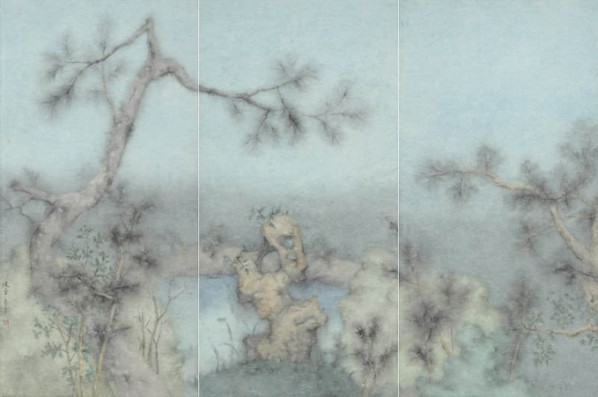 From April 12 to May 7, "Losing the Way·Zeng Jianyong Solo Exhibition," curated by Yukihito Tabata, will be held at Tokyo Gallery +BTAP at the 798 Art District. The exhibition will feature 16 new ink-and-wash creations by Zeng Jianyong.
In 2012 Tokyo Gallery +BTAP invited Zeng Jianyong to hold his solo show "Allegories·Altered Forms," which was an extension of three previous series: "Team Leader," "Black Scarf" and "Protagonist." At the same time, that show offered images that were beginning to take shape freely, driven by a new inspiration. In such works Zeng shifted from interpretive handling of pictorial, semantic structures toward conveying a more affective painterly experience. Zeng Jianyong increasingly views painting as a passageway toward inner contemplation rather than a means of exteriorization. One could also say that in this process Zeng Jianyong has experientially verified that painting gives access to awareness of life-in-itself. At the same time he has worked to bring alive concepts at the heart of traditional painting, in pursuit of the temperament and endowment that allowed traditional painting studies to transcend worldly venality. Zeng has been preoccupied with exploring these issues for some time. In these recently completed works from the "Getting Lost" series, motifs and spaces of traditional landscape painting have been repositioned, transformed and re-enacted. Zeng's previous style of painterly language has taken on a new rhetorical pattern. With glancing strokes and subtle washes Zeng imparts a loosely open quality, pregnant with associations, to subjects like mountains with clouds, pines with rocks, stream banks, and sloping meadows. His work has the clear expansiveness of Ni Yunlin and the misty indefiniteness of Mi Youren.
In contrast to the intricacy and contrivance of contemporary painting theory, Zeng Jianyong seems more willing to utilize openly allusive terms from tradition to describe his delicate observations. One should say that the "Getting Lost" series is Zeng Jianyong's retrospective view of traditional landscape painting. What the eye sees is presented, in light of contemplation, in ways that reflect a new experiential sense of nature and all things: tranquil, self-restorative and not dominated by objects. Undoubtedly Zeng Jianyong has stopped relying on weighty, bodily expressiveness; instead, he is embarking on a course that will take him outside the studio to discover sunlight, air and water. Here the transcendent imagery of traditional literati life exerts a rich appeal. The reason for this lies in Zeng Jianyong's steadily growing insights and realizations about ink-and-wash language and painting theory; more than that it lies in newly accumulated knowledge and his truthfulness in self-evaluation. The cogitative logic of a master narrative has wholly given way to a keen, microcosmic grasp of moods. Zeng Jianyong's ink-and-wash explorations have begun a turn toward reconfigured picturesu of traditional, textural space.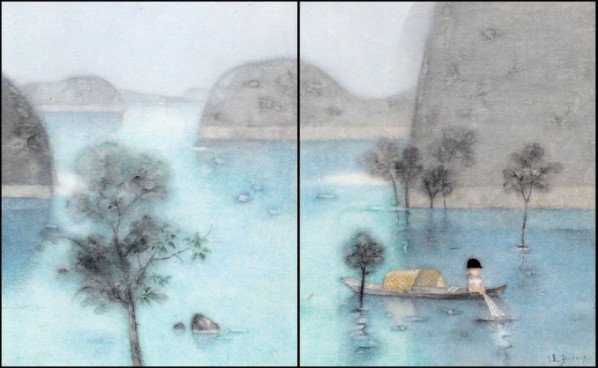 Foreword / Yukihito Tabata
What struck me when I first encountered the work of Zeng Jianyong was that I found the essence of contemporary ink painting in his works. The portraits we were given in Zeng's paintings represented ordinary people of our contemporary time, neither from a distant past nor an imaginary being. For this exhibition Lost Ways Zeng has mounted a series of works that departs from his previous representations. In place of figures and animals, we now have uninhabited landscapes.
Landscape painting is considered the highest form of Chinese (East Asian) painting since the medium's birth and its predominance still prevails. Because Zeng is skillful in portraying contemporary human life, I wanted to see how he portrays today's natural scenery of China. However, I acknowledge the difficulty and the risk for an artist to dramatically change his/her established style. Therefore, I'm pleased and grateful to see Zeng challenge to tackle a different motif.
Although his change of subject matter is apparent, his sensibility and awareness towards his surrounding environment remains the same. The contrast of light and shadow builds a quiet and pleasing but strain tension in his pictures. I'm able to perceive Zeng's personality, philosophy and sensibility through his landscapes. I hope Zeng will remain true to himself and look forward to see more of his figurative and landscapes paintings.
About Zeng Jianyong
1971, Born in Chenghai, Guangdong. Graduated from Chinese Painting Department, Huaqiao University. Graduated from Printmaking Department, the Central Academy of Fine Arts. Currently a professional artist living and working in Beijing.
About the exhibition
Duration: April 12 – May 7, 2014
Venue: Tokyo Gallery+BTAP·Beijing
Opening: April 12, 2014, Saturday 15:00
Courtesy of the artist and Tokyo Gallery+BTAP·Beijing, for further information please visit www.tokyo-gallery.com.
Related posts: