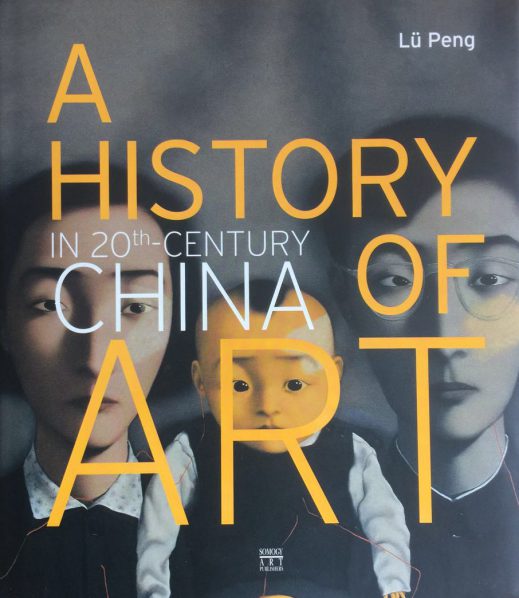 FOREWORD TO BLOODLINE: ZHANG XIAOGANG BEFORE 1996
BY LU PENG
At the end of 2009, I was editing Bloodline: Zhang Xiaogang's Correspondence (1981-1996). For me this work was a professional reminder of the most basic work (conducting research into the life and work of an artist, as well as gathering together and editing an artist's correspondence and other casebook archival materials) that had been required for producing The Correspondence of Cézanne, Van Gogh, and Gauguin which I had edited and translated more than twenty years previously for the publication of its first Chinese edition by Sichuan Fine Arts Publishing House in 1986. In the early 1980s, Zhang Xiaogang had embarked on his eventful art career, the all-encompassing journey of an acutely sensitive Piscean through painting, reading, and writing that at different times drew on the convoluted and darkest anxieties and intellectual dilemmas which determined that Zhang Xiaogang's personal artistic journey also has significance as a symbolic landscape of the history of his times; the artistic practice and thought of Zhang Xiaogang encompass the many significant changes China's art history has undergone since 1978.
I have not known Zhang Xiaogang for as long as I have known many of his friends. During the decade from 1966 and 1976 that is described as the Cultural Revolution decade, Zhang's father worked in the Southwestern Bureau under the Central Committee of the Communist Party of China (CPC), and young Zhang Xiaogang moved with his parents from Kunming, the capital of Yunnan, to Chengdu, the capital of Sichuan, the two most populous, and politically significant, provinces of south-western China. The Southwestern Bureau of the CPC was an enormous body set up in 1963, the year when Zhang's father was transferred from the Yunnan Provincial Party Committee to the Southwestern Bureau. Because a large number of cadres were compulsorily relocated to Chengdu at that time, the Southwestern Bureau required extensive housing in Chengdu. Among the housing compounds allocated to the new government body, the main ones were scattered widely across the city – at Tongzi Street, Drum Tower North Third Street (Gulou Beisanjie), Sanhuaishu, Neibei Lane, Yongxing Lane, and Yihaoyuan. Zhang Xiaogang's family lived at Drum Tower North Third Street. My father was also a cadre in the Southwestern Bureau, but we lived at Sanhuaishu, far from the other housing compounds. The children from the different compounds also went to different schools so I had little contact with children from other compounds of the Southwestern Bureau. In 1973, the Southwestern Bureau was dissolved; Zhang Xiaogang's father was reassigned back to Kunming, and Zhang Xiaogang moved with his family back to the city of his birth.
During the period from early 1978 until the spring of 1982 when I was a university student, Zhao Liaoyuan, who had been my neighbor in the Sanhuaishu compound in Chengdu before he too returned to Kunming with his parents when the Southwestern Bureau was disbanded, happened to come on an excursion to Chengdu and told me that a companion of his who originally lived in the Drum Tower North Third Street compound called Zhang Xiaogang was now his neighbor in Kunming. Zhao told me that Zhang Xiaogang was "quite a good painter" and, knowing of my passionate interest in art, said that he would introduce Zhang to me. However, it was not until 1985 that Zhou Chunya brought Zhang Xiaogang to my home, when I was living at 168 Hongxing Fourth Road in Chengdu, which was where some of the Chengdu staffers of the Southwestern Bureau had been relocated after the organization was disbanded. Zhou Chunya introduced me to Zhang as one of his classmates who painted well. That's how we met. Later Zhang Xiaogang married Tang Lei, who lived in the apartments assigned to the Zouma Road Post Office employees, not far from my parents' apartment. Thereafter, Zhang Xiaogang was in Chengdu for a long time and we were both part of a group of artists and friends who called in on each other and invariably drank, socialized, and engaged in intense discussions together.
My art history studies began when I was at university and throughout the 1980's, my attention was focused on the translation of works on the history of Western art. At that time, because of my interest in the history of artistic style, I was little interested in the "new wave art" then emerging in China, and in order to learn more about European art, I was quite content to have only a basic knowledge of modern art in China. Nevertheless, artists in Chengdu and other cities in China's South-west, such as Mao Xuhui in Kunming and Ye Yongqing in Chongqing, were already regularly exchanging information and ideas about Western philosophy and art, and recording tapes of Western classical music for each other.
It was out of a sense of responsibility and sorrow triggered by the tragic events of June 4 1989 that Yi Dan and I took more than three months in the latter part of 1989 to write a history of modern Chinese art from 1979 to 1989, and this marked the beginnings of my documentation of the history of Chinese art, including China's contemporary art. At that time, my background knowledge of art history was limited to my reading of books treating Western philosophy during my time at University, as well as of a series of translations of foreign fine arts books published by the Zhejiang Academy of Fine Arts (today's China Academy of Art) that included Vasari's Lives, Burckhardt's The Civilization of the Renaissance in Italy, and art histories by Ernst Gombrich, Herbert Read, and H. Harvard Arnason, as well as of many other translations of Western studies of art and literature.
Beginning in 1990, and based on my reading of works by Jacques Derrida and Michel Foucault, my view of history underwent an enormous change, and I largely abandoned my earlier essentialist thinking. This was at the time when Wang Guangyi's series of paintings titled Mass Criticism made its appearance. I returned to Chengdu from Wuhan in Hubei province, and found the atmosphere in Zhang Xiaogang's cramped apartment on Zouma Road extremely oppressive because he was still steeped in his Expressionist angst. At about the same time, around 1991 or so, in the Yuanmingyuan painters' village on the outskirts of Beijing I saw Fang Lijun "bald heads" for the first time and wondered whether Chinese modernist art and thought were in fact facing a dilemma. Some time before that in 1987, I had been startled by the paintings of Zhang Peili and, more especially, by those of Geng Jianyi, and did not quite understand the articles being written by the members of the small critical art groups I met in Beijing. At that time I was somewhat slowly becoming aware of the problems posed by the essentialism that had long been central to China's newly re-emerged modernism. However, from around 1990 to 1992, Zhang Xiaogang and his friend Mao Xuhui were still endlessly discussing questions regarding the soul and the spirit; yet at the end of 1989 Zhang Xiaogang had completed his Black Trilogy and by 1991 had produced his series of powerful Expressionist oil paintings titled Private Notes.
After 1992, the market economy was coming to play a greater role in Chinese daily life and the art world was forced to give time-consuming consideration to money problems. It was around 1996 that I was present when a group of people, including Ye Yongqing and Li Xianting, were locked in a protracted discussion in the hostel of the China Literature and Art Federation in Beijing on the topic of the American dollar price of works by different local artists; the atmosphere was completely different from that of the 1980s when everyone would have been discussing issues of philosophy and art. I was extremely troubled by the conversation, as I was still obsessed with what I felt were the overriding historical problems of this period. Yet by 1998 I felt a new clarity regarding the artistic issues in the China of the 1990s. A year later I finished writing my History of Chinese Contemporary Art: 1990-1999. Starting with the 1995 Venice Biennale, Zhang Xiaogang's work became known to, and exhibited by, art galleries and institutions in a number of countries, and in 1999 his solo exhibition Les Camarades in the Galerie de France in Paris became the first one-man show of a contemporary artist from mainland China staged by that gallery since it held an exhibition for the remarkable émigré artist Zao Wou-Ki in the 1970s. At that time, many Chinese artists and critics had conflicting views regarding the relationships between modernism and post-modernism, or what was called "contemporary art", yet Zhang Xiaogang's series of works titled Big Family seemed to provide a sound solution to this dilemma.
After the year 2000, I had the opportunity to study for my doctorate under Fan Jingzhong and to immerse myself in the history of ancient Chinese painting. My resulting thesis was published as Pure Views Remote from Streams and Mountains: Chinese Landscape Painting in the Tenth to Thirteenth Centuries (Chinese People's University Press, 2004). During this time I often heard the view expressed that the new wave, modern, or contemporary art of China that emerged after the country's economic reforms began can only be appreciated as an artistic experiment, and the question was how art history could accommodate such experiments. To address this question, I began writing History of Art in China in the 20th Century (Peking University Press, 2007, first edition), and I was clear about why I was writing this work: the many artistic phenomena in China, ranging from the "Scar Art" beginning at the end of 1978 to the Cynical Realism and Political Pop of the 1990s, should all be included in the scope of the study of art history. Simply put, the modern art and contemporary art of the two decades from 1978 onwards were an integral part of 20th century Chinese art history. Through the many drafts of this book, Zhang Xiaogang remained an artist I felt to be especially deserving of analysis and study.
In 2014, the revised third edition of History of Art in China in the 20th Century was published by Nova Publishers, and at the same time I completed a condensed version of my work titled The Story of Art (the first edition of this abbreviated version was published in 2010 by Peking University Press). In September 2014, I organized a conference in the northern Chinese city of Yinchuan, significantly an important node on the ancient Silk Road linking China with Central Asia, the Middle East and Europe, which examined East-West cultural and artistic exchanges in the centuries following mankind's Age of Discovery. This conference, titled The Dimension of Civilization: International Symposium, provided a unique opportunity for scholars to present and publish an historical review of aspects of research on nineteenth and twentieth century Chinese art history, among other cross-cultural interactions. Now, I believe that I should put aside writing comprehensive art histories for a time and re-examine case studies of individual artists, something I had previously undertaken which resulted in the publication of my two-volume work titled Artists in Art History: Case Studies of Artists in Art History and Art Criticism by Hunan Fine Arts Publishing House in 2008. Writing about contemporary art led me realize some time ago that historical research requires a layered dissection of individual case studies. In fact, researching the art history of one particular artist is the study of a span of art history, and one artist's life and work involves social, political, cultural, and emotional problems, all of which are related to history as a whole. It can also be said that the case-books of artists are essential building-blocks for the edifice of art history, without which art history is untenable; artists can represent or symbolize a period, both its glory and its maladies. Hermann Hesse, Zhang Xiaogang's favorite writer at one time, explained in his preface to Steppenwolf why he wanted to publish Haller's autobiographical writings:
I see them as a document of the times, for Haller's sickness of the soul as I now know, is not the eccentricity of a single individual, but the sickness of the times themselves, the neurosis of that generation to which Haller belongs, a sickness, it seems, that by no means attacks the weak and worthless only, but rather those who are strongest in spirit and richest in gifts.
I personally believe that no one has ever written history simply "for history's sake" – even though the narration of past events can satisfy a personal love of writing. Beginning in 1949, mainland China's historical writing has been limited to a narrow range controlled by the official ideology, and choices and judgments about history have been shackled and tormented by the political system. I can cite one example that suffices to clarify this situation. In 2014, the painting Bloodlines: Big Family No. 3 (1995) had a reserve price at auction of HK $ 83 million, and the final auction price climbed nearly HK $ 100 million (including the auction fee), yet up to that time the National Art Museum of China in Beijing had not collected a single work by Zhang Xiaogang. Over the past few years, however, many works on the history of art published abroad have, to varying degrees, introduced Zhang's art and his significance in art history. For example, the English art historian Edward Lucie-Smith, familiar to artists and critics in China, included Zhang Xiaogang in the section of the revised edition of his Lives of the Great Modern Artists (2009) titled "The Artist Not the Artwork" together with Louise Bourgeois, Joseph Beuys, Yves Klein, Eva Hesse, and Jean-Michel Basquiat. However, mainland China's official art research or educational institutions have no involvement with China's own contemporary art. Zhang Xiaogang and other important contemporary artists (such as Wang Guangyi, Fang Lijun, and Yue Minjun) are still criticized and reviled by official art institutions. This situation is not the result of "academic caution", but is ultimately the result of the fact that Chinese contemporary art lacks legitimacy in the country where it originates and is produced; the basic working criterion of value for official art institutions to this day remains Mao Zedong's Talks at the Yan'an Forum on Literature and Art. Thus, since 1978, the basic thread and issues in Chinese art history can only be identified once academic research has shaken free of the system of political control. Broadly speaking, as was my aim in writing The History of Art in China in the Twentieth Century and other works treating the history of contemporary art, my purpose in writing this book has been to take part in effecting a real change in the Chinese practice of writing art history, by allowing others through writing to bring to fruition a "contemporary" author's view of history. I know that my own writing falls short, but a book can provide a basis for readers to argue for the historical legitimacy of the art of a particular period. In this age of material desire, intellectual devaluation, cultural decline, and loss of faith, persistence in historical writing requires an intelligent will and a critical understanding of the past and of reality; such a spirit and understanding are essential throughout the entire process of historical writing. This is my fundamental attitude.
When people discuss 20th century Chinese art history, they often refer to such names as Xu Beihong, Liu Haisu, Lin Fengmian, Yan Wenliang, Huang Binhong, Fu Baoshi, Pan Tianshou, and Li Keran. However, time can inform people, if they are able to heed from below what is occurring, that Zhang Xiaogang is an artist of this generation who not only serves as his nation's historical memory, but is also an integral part of world art history. By upholding a particular historical viewpoint required to bring this project to completion, I attempt to apply critical analysis to the contradictions and conflicts constantly raised by the work of Zhang Xiaogang and his generation and to provide a multidimensional narrative and analysis of Zhang Xiaogang's art career, so that readers can acquire an understanding of the genuine history and complexity of his artistic thought, art practice, and emotional life, as well as a better understanding of what constitutes the historical value that our era and future civilized society require.
Writing artists' case histories is the emphasis of my study of the history of contemporary art, but only when I was involved in editing Amnesia and Memory: Zhang Xiaogang's Correspondence 1981-1996, did I realize that it was possible to write a history of Zhang's personal artistic path. Historical writing firstly requires information and documentation, and with the continuing efforts of the artist himself, his friends, and his assistants in sorting through the vast number of documents assembled, the writing of this book became a reality.
This book is limited to research on Zhang Xiaogang's artistic career prior to 1996, the year in which the artist perfected the style we see in the Big Family works. At the same time, an improvement in his income enabled Zhang Xiaogang to open The Little Bar at 55 Yulin West Road in Chengdu, which was managed by Tang Lei, now his ex-wife. By spring 1997 The Little Bar became the venue where local artists and their friends often gathered and met up with artists from other parts of the country, while Zhang Xiaogang became increasingly busy staging exhibitions both in China and overseas. In 1997, Zhang Xiaogang had his first one-man show in China, in the Gallery of the Central Art Academy in Beijing, a large space with an international reputation in contemporary art circles. The show, titled Bloodlines: The Big Family, was significant as a full exposition of the typical and representative style of Zhang Xiaogang's work. Weng Ling, the director of the Gallery who was also responsible for curating the show, justifiably regarded this show as one of her major contributions to art history for many years to come. Two years after that show, Zhang Xiaogang moved his studio to Beijing and this change in his environment ushered in a new stage in the artist's life. A description of Zhang Xiaogang and his art from 1997 onwards warrants a volume of its own, and that may well be a project for the future.
Wednesday, 3 December 2012, Biyun Shenchu
The views expressed in this column are the author's own and do not represent those of CAFA ART INFO.
Related posts: