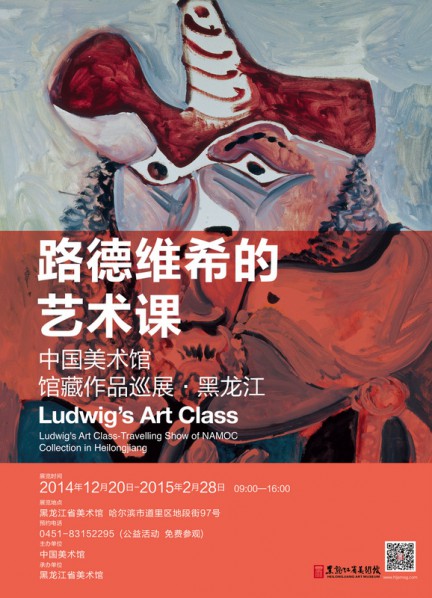 In 1996, German collectors Irene and Peter Ludwig donated 117 Western art works, one of the most important contributions to the National Art Museum of China. The gift includes paintings, sculptures and installation works from such artists as Roy Lichtenstein, Gerhard Richter and David Hockney.
The Ludwigs considered that the donation to China was the biggest event in their late years. They recognized the significance of the donation to a big country with a population of over a billion and the citizens' acknowledgement for the donation. They should give a high quality of international art, and respect the national love and appreciative customs of China. Therefore, from July 1995 they started to select the works of art of Germans and Americans from 1970s and afterward. In their point of view of art history, they classified the art movements by means of showing the reform and development of western modern art in a specific period: The first part was about painting from tradition conservative to audacity trails. The second part was Realism that was about the condition of Eastern and Western societies towards the art reaction. The Western countries included West Germany, United States, France, Italy, Spain, etc., and the eastern countries included East Germany, USSR, Czechoslovakia, Cuba, Romania, Hungary, etc. The third part was Conceptual Art that was about the personal expression and the subjective idea of the artists themselves. Starting from 60 pieces of work of art of the donation to a continuously increasing of 82 painters with 89 pieces of work of art. At the beginning, none of Picasso's work was chosen; however, four of Picasso's works were finally chosen (3 portrait oil paintings and one ink painting on paper ).
The Ministry of Culture of China, China National Museum of Fine Arts and art communities would treasure this art donation. The generous donation from the Ludwigs would supplement the insufficient work of western art of China National Museum of Fine Arts, especially the work of Picasso and other western masterpieces. It would also increase the cultural property of China, with that providing the opportunity to view the original works and for art professions to understand and study western modern art.
About the exhibition
Duration: 20 December, 2014 – 28 February, 2015
Venue: Heilongjiang Art Museum
Courtesy of the National Art Museum of China and Heilongjiang Art Museum, for further information please visit www.hljsmsg.com.
Related posts: