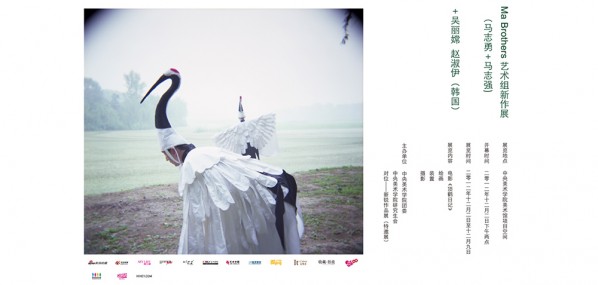 Invited by "Exchange: Avant Garde Exhibition of CAFA", Ma Brothers, Ma Zhiqiang and Ma Zhiyong's New Works Exhibition was held at the Project Space of CAFA Art Museum at 14:00pm on December 2, 2012. The exhibition features their new works created last year, including a film named "Diary of the Red-Crowned Crane", paintings of mixed media, photos of performance, and small-sized installations, more than 20 pieces in total. Lots of youth teachers from CAFA were present at the opening ceremony and visited the exhibition.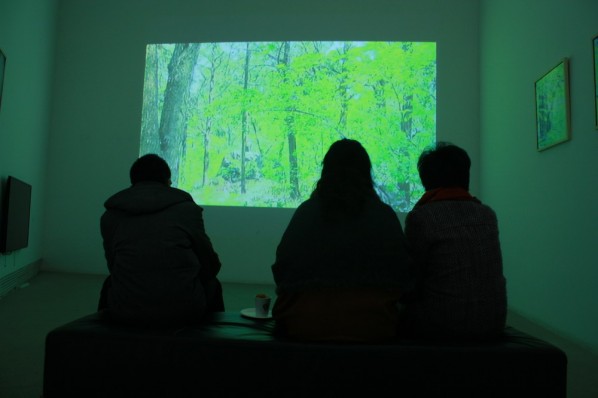 The exhibition is mainly a contrast and expresses the relationship of youth artists and social realities on the topic of the combination of traditional immortal birds and the two artists, whose relationship is similar so that they are intermittently isolated. It's a topic about cranes which reveals that the artists are unconsciously close to the aesthetic spirit of ancient people when they are constantly working on their art, you can say that they naturally express the aloof and lofty state that is part of people. Crane Standing in the Crowd of Chicken means that the crane is living on the edge, carrying a sense of destiny, as well as a factor of social reality. It is obvious that these works are self-deprecating. But artists said they started to occasionally produce them with an original motivation, without a thought of the meaning and symbol, etc. They were ordered to draw new year pictures of large-scale watercolor paintings with the theme of some traditional auspicious and pleasant subjects such as Eight Immortals, Pines and Cranes, Fish and Children, etc. for hanging in the living room by their father in their childhood. Seeing the strong folk flavor of Shanxi Province, the audiences can interpret these works easier.
The video part of the exhibition was entitled to "Diary of the Red-Crowned Crane", which originates from a saying of immortal crowned from the folk culture of Shangxi Province, a crowned crane has the meaning that the soul or spirit of the crane is melted into a human body, it is an experimental film which is talking about that the youth artists that have designed and completed the performance, and artists performed the self using a personal historical artistry. It is difficult for viewers to define its type, a mixture of documentary, video art and feature film, and the film presents as always their style of relatively free and flexible processing techniques of images, and avoids classification by the audiences to a certain kind of mode. It is impressing to see the paintings of mixed media, which were produced by pure pulverized coals to create unique and fresh paintings filled with power. I believe that artists used this media for they have grown up in Datong Shanxi Province, full of pulverized coal floating in the air. However, it is not a simple correspondence between the identity symbol of artists and the application of this material, and we could probably find the answer from the relation of Boyce and his blankets and grease. In the vertical perspective, their works are always in constant evolution, it's difficult to say what their artistic style in the future will be, at the same time, artists obtain their strong artistic vitality from that, and avoid being stereotyped and categorized. They joke that they are "the Chapman Brothers in China", which is probably the most important artistic feature and value for the combination of the twin brothers.
The exhibition lasts until December 9, 2012.
About Ma Brothers (Ma Zhiqiang +Ma Zhiyong)
1981 Born in Datong Shanxi Province
2000-2005 Studied in Central Academy of Fine Arts together (won bachelor degrees)
2005-2008 Ma Zhiqiang studied in School of Design, CAFA (won a master degree)
2008-2011 Ma Zhiqiang worked in the China Youth Press (as an art books planning editor)
2011 Ma Zhiqiang was transferred formally to work at CAFA.
From 2010 to now Ma Zhiyong studies in the Department of Experimental Art of CAFA (as a postgraduate)
Won the Top 20 of art design of mascot Superdoll from the Hunan Satellite TV
2007 Their video works and dialogues were published in "the Public TV" magazine
2009 Their experimental short participated in the Experimental Film Unit of the Filming East Festival in UK
2011 Their painting "Lightning Scenery" participated in the 2nd China Contemporary 2011/10 Watercolor Art Exhibition
Translated by Chen Peihua/CAFA ART INFO
Related posts: