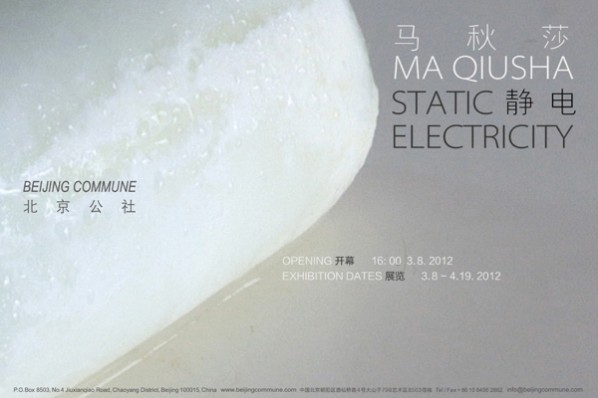 Ma Qiusha's solo show "Static Electricity" presents her latest installation, video works and watercolor on paper at the Beijing Commune and it will last until April 9th, 2012.
Static electricity is one of the most common physical phenomena in everyday life, it comes from the "bright flash" of the friction between objects. The works shown in this exhibition display topics and memories from everyday experiences in comparison to abstract concepts and theories, Ma Qiusha believes in what she has experienced in real life.
The three-channel video Red/White/Yellow respectively records the process of three ice "bricks" from solid into liquid. The five-minute-work is an enrichment of 12 hours of shooting. The three pieces of ice bricks are made of frozen blood, urine and milk, which are all body fluids and are abstracted into rectangle forms. The outer layer of the film suggests a state of always being wrapped, and during the process of the melting ice bricks, the existence of film becomes more and more clear.
The single-channel video Token was shot during the night: the internal organs emitting hot air were thrown from nowhere, with the noise of the unknown cat in an excited and amplified snore offers a distortion effect. The fresh visceral organs seemed to live but actually are just evidence of death.
To S is composed of four ice tanks with tidy shelved cucumbers, eggplants, carrots and yams; these are all good quality and low price vegetables representing the four seasons, and relatively easy to store. Ma Qiusha took a root vegetable from each group as a standard body, then according to its length, cuts from head to tail with the other vegetables, and finally made all four groups into a neat and tidy visual effect in line with the norm. In this way, MaQiuSha simulated an easily realized order.
Paper work Fog originates from Ma Qiusha childhood memory of a "window", she used gauze with different patterns on watercolour paper, kept brushing "dark night" over and over then finally took off the gauze.
Ma Qiusha was born in 1982 in Beijing, China, and graduated from the Central Academy of Fine Arts(BA) and the Alfred University(MFA); now she lives and works in Beijing. Since 2002, Ma Qiusha's works have been shown in the domestic and international contemporary art exhibitions, video fairs and film festivals. In 2009, she had a solo exhibition in Beijing Commune and received widespread attention. Her works were also exhibited in Tate Modern in London (2010), and important group shows including "Soft Machines" (2011) at The Pace Gallery in New York, "Move on Asia 2010″ at the Loop Gallery in South Korea.
Courtesy of Ma Qiusha and Beijing Commune, for more information please visit www.beijingcommune.com
Related posts: