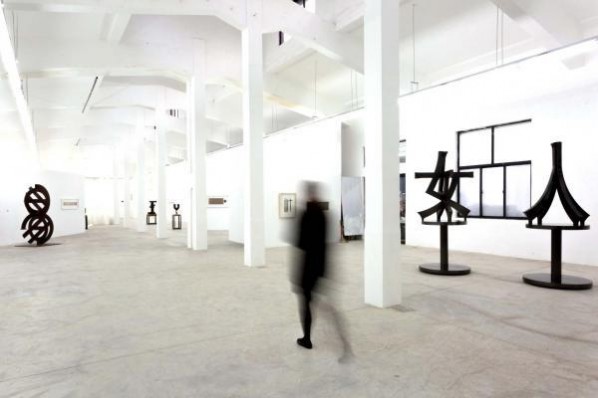 MD Gallery is proud to announce a group show with three renowned Chinese contemporary artists: Huang Rui, Li Hongbo and Jiang Ji'an. The exhibition features work by the three artists developed around the notions of meaning and matter, with each creating pieces that tell unique, poetic stories.
Meaning gives another dimension to matter, it allows human beings to put words to it, to give it a sense, to attach a word to an image and include it in a language, in an intangible reality. This exhibition explores the interaction between these two elements, revealing how Huang Rui, Li Hongbo and Jiang Ji'an and relate to both concepts and how their creations resonate with Meaning and Matter.
Li Hongbo works around this interaction with objects that evolve, transform themselves through time and space. Thanks to a very traditional technique normally used for toys and lanterns he has put together layers of paper to create magical pieces. Reusing newspapers charged with meaning, words and stories, he creates new sculptural objects, almost breathing new life into meanings that were set aside.
In line with the art of Li Hongbo, Jiang Ji'an creates an infinite cycle of poetry from a single thing – this is the concept that lies at the heart of his work. Through the use of one object, he turns it into another reality. From tea leaves he creates paper and ink to recreate an image of tea – the artist pushing matter to an almost illusion of it. Illusion which he creates with his installations, playing with the shadows of things, drawing attention to something one so easily forgets, being too focused on the things themselves and not the shadows they cast.
Huang Rui, meanwhile, works in an opposite way. By using meaning to create matter, he is literally exploring matter through words in order to create sculptures or paintings. Working around the symmetry and simplicity of forms and colours, and thanks to an exploration of texture, he is making us see the beauty and strength of words.
Each of the three artists invited by the gallery for this show is creating here a unique form of visual poetry, giving strong, sensitive and subtle meanings to matter.
Curated by Pauline Foessel
About the exhibition
Duration: 13 Dec 2014 – 10 Jan 2015
Venue: Magda Danysz Gallery Shanghai
Opening Reception: 13 Dec 2014 Sat 16:00-17:00
Tel: 021-55139599
Add: 188 Linqing Road (near YangShupu Road), Shanghai
Courtesy of the artists and Magda Danysz Gallery Shanghai, for further information please visit www.magda-gallery.com.
Related posts: