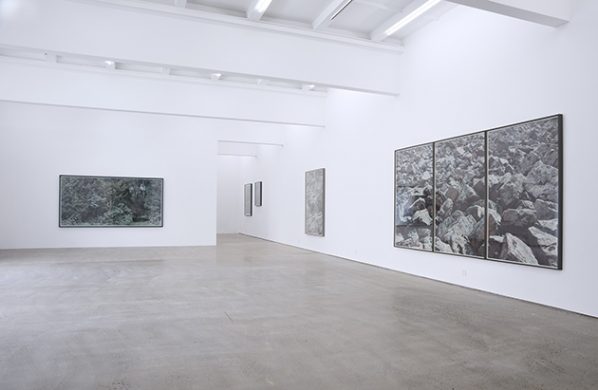 Magician Space presents a second solo exhibition for artist Shi Guowei. In this show, a series of new artworks are exhibited.
In the recent years since his return from studies at the Fachhochschule Dortmund in Germany, Shi Guowei has evolved a singular, and compelling, style of visual expression. This resides in a subtle, and deft, combination of photography and painting. Specifically, between black and white photographs that he makes in conventional fashion by observing scenes and documenting his observations, and an approach to hand-colouring them over an extended period of time. This process requires coordination of eye and hand through the camera lens and the highly controlled daubing of a brush. And, similar to the successful deployment of many artistic forms through history, the combination of materials and execution together expresses much more than might be assumed from the label "hand-coloured photo".
Outwardly, superficially, the subject of Shi Guowei's recent endeavour, as evidenced in the group of new works presented in "A Walk in the Woods", is landscape, or rather nature, used in a generic or slightly abstract form that eschews the particular. Within the context of Shi Guowei's immediate cultural framework this content and approach to using it may not be surprising, since, in terms of the traditional arts, of ink and literati painting, landscape is almost always esoteric, a resource deployed to conjure a spiritual state via means of a metaphoric, rather than a purely descriptive, lexicon of motifs. Similarly, Shi Guowei is less concerned with depicting the physical resemblance of nature, than with finding means to illuminate an inner world of abstract experiences and emotions. This, he does, with a quiet, subtle skill. So much so that, courtesy of his masterful combination of straight documentary photography with a lengthy process of colouring, his "photo-paintings" are imbued with a metaphysical force, and an aura of the sublime.
About the Artist
Shi Guowei (b. 1977), currently lives and works in Beijing.
Major exhibitions include: Magician Space, Beijing (2019/2016); Art Basel Hong Kong (2018/2017); Changjiang International Photography and Video Biennale, Chongqing (2017);Nature: A Subjective Place, Shanghai Center of Photography (SCôP), Shanghai (2016);Don't Shoot The Painter,Galleriad' Arte Moderna Milano, Italy (2015);The Civil Power, Minsheng Art Museum, Beijing, China (2015); The Bright Eye Of The Universe, Sundaram Tagore Gallery, New York, USA (2015);Made in China,London, UK (2013);6th Chengdu Biennale, Chengdu, China (2013);'Pop Sensation' from the UBS Art Collection,Hong Kong Arts Centre, Hong Kong, China (2012);China: Memories & Imagination,Albemarle Gallery, London, UK (2011);Dimplom-Arbeiten Dortmund Photography Exhibition,Germany (2006).
About the exhibition
Curated by: Karen Smith
Dates: 22nd March 2019 to 11th May 2019
Venue: Magician Space
Courtesy of the artist and Magician Space, for further information please visit www.magician-space.com.
Related posts: