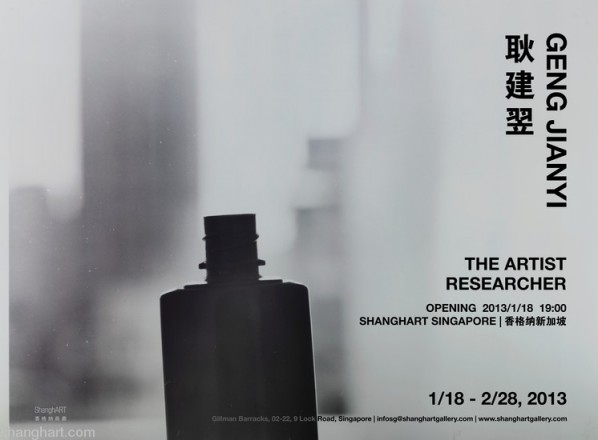 ShanghART Singapore first full scale exhibition presents Geng Jianyi, this pioneer of Chinese avant-garde art, which opens at the Gillman Barracks art hub on January 18. Geng Jianyi's first solo show and major retrospective in Singapore will feature works spanning over 20 years of an astonishing artistic career based on a distinctive exploration of identity and research into art, philosophy and life.
Geng Jianyi was born in Zhengzhou, Henan province in 1962. He graduated from the Oil Painting Department, Zhejiang Academy of Fine Arts, Today he lives and works in Hangzhou. He held a much acclaimed retrospective at Minsheng Art Museum (Shanghai) in the autumn of 2011 and received the CCAA Award for Life Time Achievement in 2012. A principal member of the '85 New Wave movement, Geng Jianyi's work examines the relationship between the individual and the collective i.e. his own personal position within the context of the collective. Despite his practice of diverse aesthetics and media (including activist street art, oil painting, installation art and ink drawing), the artist never ceases to explore the questions of the 'self' in today's world. His work can be described as 'after-images' that continuously veil and unveil fragments of the individual. Geng Jianyi demonstrates an intense concern about self-awareness and the multitude of forms by which the individual is expressed and represented. In a series of portraits entitled Face (2001), the artist utilizes light-sensitive paper to create ghost-like portraits. He depicts what Paul Virilio has termed 'the aesthetics of disappearance' with a subtle calm and stillness. The semi-transparency of the portraits corresponds to a notion of withdrawal or abandonment of individuality. These images oscillate between total abstraction and recognizable facial features. A similar approach is undertaken in an earlier series of portraits titled Impossible to Name, where the artist combines oil on canvas and paper-cuts to signify the diverse layers that constitute our beings and the shifting ground that threatens our existence into dissolution. Other works revolving around themes of existential identity include Who is He? (1994) and Proving the Existence (1994). Geng has also collaborated with fellow Chinese artist Zhang Peili, with whom he founded the Pool Society group and created a number of performances and video works. In recent years, Geng has focused on oil painting, installations, and photography, often returning to the themes of individuality and alienation.
In the exquisite series Water, the artist is concerned with a phenomenon that appears and disappears. The pictures are composed using light-sensitive paper to experiment with ways of directly capturing images from natural forms without using the lens of a camera. The black and white photos resemble the meta-physical abstractions of traditional ink and wash. Nature revolves here around notions of pantheism and the sublime as understood by Kant. According to Kant, "the mind feels itself set in motion in representation of the sublime in nature. The point of excess for the imagination is like an abyss in which it fears to lose itself."
Geng Jianyi has exhibited widely since his first show in 1989. Recent exhibitions include: The Seventh Shenzhen Sculpture Biennale, OCAT, Shenzhen (2012); GENG Jianyi, WU Shanzhuan, YANG Fudong: Waterworks, ShanghART H-Space, Shanghai (2011); Thirty Years of Chinese Contemporary Art, Minsheng Art Museum, Shanghai (2010); The Real Thing, Contemporary Art from China, Tate Liverpool, U.K. (2007); Zooming into Focus, Beijing National Museum of Art (2005); 5th Shanghai Biennale: Techniques of the Visible, Shanghai Art Museum (2004); 4th Gwangju Biennale (2002), Living in Time – Contemporary Artists from China, Hamburger Bahnhof, Berlin (2001). And recent solo exhibitions include: Wu Zhi, Geng Jianyi Works 1985-2008 , Minsheng Art Museum, Shanghai (2012); Geng Jianyi, Excessive Transition, ShanghART Beijing (2008); Book Without Words, Geng Jianyi New York Solo Exhibition, Chambers Fine Art, New York, U.S.A. (2006); Geng Jianyi – Useless, BizART, Shanghai (2004); Watermarks, ShanghART Gallery, Shanghai (2001).
About the exhibition
Duration: Jan-18, 2013 – Feb-28, 2013
Venue: ShanghART Singapore
Address: Gillman Barracks, 02-22, 9 Lock Road, Singapore 108937
T: +65 6734 9537
F: +65 6734 9037
Opening Time: Tue.-Sat. 12-7PM, Sun. 12-6PM
Courtesy of the artist and ShanghART Singapore, for further information please visit www.shanghartgallery.com.
Related posts: